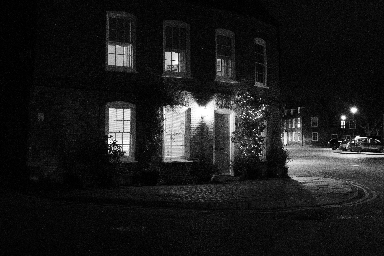 Street Lit – I took a short walk the other evening, it was the night of the first of two storms. Nothing had really started in earnest, there was some wind but nothing in the 'storm' category. I did avoid a large tree, which I had seen a large branch down from it, a couple of months ago.
It wasn't long before a little rain started. This was a good first test of my Fujifilm X100V and its 'weather sealing' (the full weather sealing requires and filter for the front of the lens, which I purchased, when I got the camera). All worked perfectly well.
I had an idea of a photograph I wanted to take before I set out. It turned out as I had envisioned it and it wasn't long before a couple more opportunities had presented themselves.
I didn't intend to spend a lot of time out and didn't need to, as I was pleased with the results. The image below is a building I pass most morning when I walk up, into Ely to get a cup of coffee from Silver Oak Coffee. Pleasing during the day, it looked spectacular at night
If you like the above image, take a look at murpworkschrome – monochrome – really pleased with 'Street Lit Window'.
Peace and photography
rp