The Long Road to Mirrless – Part 2
Tuesday 22 May 2018
Tuesday, we awoke, went out and found the canal. We explored a small stretch, walking toward Heyford from Weedon. We didn't venture far as the standard rule about vacating hotel rooms was in effect; be out by 12:00. I wanted to wait as long as we could before ringing the marina. When we finally did, we had to wait for a call back so we sat in the garden of the Heart of England, surrounded by our bags, looking like refugees. It was another glorious day though. Waiting was becoming commonplace. Eventually we called back but found that the boat wouldn't be ready so, as planned (I felt it might not be, upon seeing the engine on the floor, rather than in the boat yesterday afternoon) set off in search of another room for the night.
No Room at the Inn (or Pub or Hotel…)
Where we had stayed the previous night was fully booked. Never mind, there was another hotel across the road The Crossroads (cue cheesy music. No, not the one of famed TV Series Crossroads). At 13:00 there was a room but the clerk was unable to book it. "Wait until my Supervisor gets on at 15:00". So we sat in the sun (again, getting a lovely tan by now) in a pleasant location for one and a half hours. At 15:00, the Supervisor looked into booking the room for us. "Can't book this last room for one night, it has to be two or more, £160". "But we only want it for one!". "Sorry".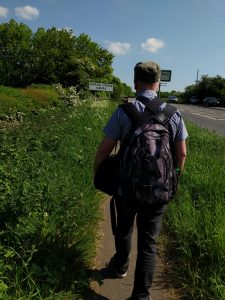 We set off in search of a pub; The Narrow Boat. We were assured it was in walking distance. It was but up a hill, in sweltering heat. Never mind, on past a wonderful 1920's garage that sold sweets in jars and up to the Grand Union Canal and one of the most picturesque pubs in the area. This would be perfect (if a little expensive) but only one night before we were to stay on our narrowboat.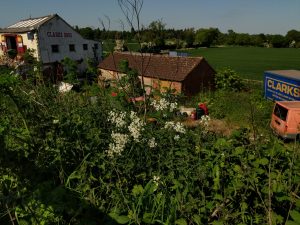 "Sorry, fully booked".
"What?".
"There's a hotel not far away; the Holiday Inn, it says they have rooms available for tonight, from £55″. (The not far away was another one and a half miles!)
"Is it far?".
"No, not far. It's in Flore, just back down the way you came. Within walking distance".
Back to Where We Started
Off we set again, this time with less enthusiasm, less stamina and less banter… Finally, we arrived at the Holiday Inn, after a very large hill and a rest stop in a sheltered bus stop.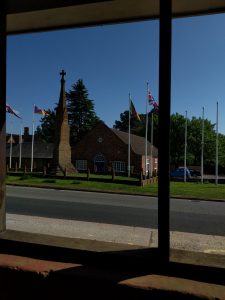 "We hear you have rooms available for £55 a night".
"Oh, no Madam. This is a Premium hotel and our room price is £159 per night" said the Concierge, pointing at a suitably large Corporate sign on the wall, shouting '£159 per room, per night'.
"There are no rooms available. We are fully booked" he added indignantly.
"There is nothing available. Tuesday night is the busiest night for the hotel business trade!".
"Aarrgghhh!".
To be fair, the chap did ring round every hotel within a 100 mile radius (remember, we were on foot, heavily loaded). We set off once again now thoroughly dejected, hardly speaking to each other, the sun still beating down, with thoughts of having to sleep rough in a field somewhere.
On the trek back to the crossroads (the location, not the hotel) I rang Whilton Marina, explained the situation. They went away but rang straight back with news that there was a room available at The Crossroads (the hotel, and the location. Cue music – not funny this time, not funny before either).
"But, But…"
"There are rooms available".
Crossroads
At this point we had just made it back to the crossroads and thus, The Crossroads hotel.
This crossroads is in the middle of nowhere, with very little by way of entertainment (except for 'fully-booked hotel lotto' in the early part of the week). The Crossroads is smack bang in the middle of the crossroads – you can't miss it.
Cancellation
The Supervisor now told us there had been a cancellation, so a room could be freed up for one night. We grabbed it. It was more expensive than it should have been but it was a room. We didn't have to stay out all night. Hurrah!
The room was fine, the restaurant was great with an excellent vegetarian menu and much needed Beers, Wines & Spirits of distinction.
A stressful day.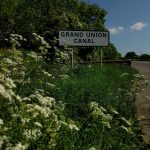 The Long Road to Mirrless - Part 1
rp – peace and narrowboats