The Long Journey Home – Part 8
Thursday 7 June 2018
Full Steam to Enslow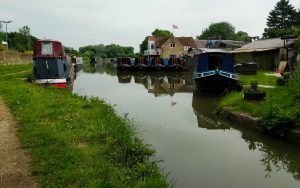 The Long Journey Home – Part 8 sees us leaving our Lower Heyford Wharf mooring. We pulled Mirrless up to the water point which was situated just under Heyford Wharf Bridge 206, on the starboard side. You do feel like you're in the film Waterworld, stopping to get water wherever you can, filling the tank, filling bottles for making tea, having a reserve for emergencies. You become very conscious of the resources you use out on the cut. Which is a good thing. The water pipes are locked and are opened via a 'British Waterways Board' (BWB) key. Whilton Marina kindly gave us ours (you'd normally have to pay £5). All the water points are marked by a blue tap in the Nicholson Guide books. No Mad Max-style dash and fight for services yet though 🙂
After just 1 hour's travel – Aargh! Overheating. steam everywhere, it looked really serious.
A Pullover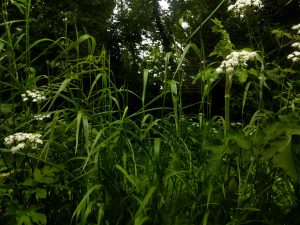 We pulled over immediately. I saw steam was escaping from the union clips on piping that joined a section and then headed down, under the engine. We had to wait until it all cooled down before I attempted tightening the aforementioned clips. We waited an hour and after filling the now familiar Bowman reservoir cooling tank we went on, our hearts sunken, heading for Enslow.
I ran at 900 rpm constantly for a while, then at 1,100 rpm on the now straighter sections of the canal that were appearing. We ran for nearly 3 hours, with no more overheating. Could it be that my engineering skills in the engine bay were paying off?
Well Handled
We arrived at Enslow, just before the marina, just after the winding hole. My approach was slow and steady but a narrowboat coming the other way had me reversing. With reversing comes no steering and it left me nearly taking out a liveaboard boater, at the little community there. I got grounded once again, whilst facing an on-coming boat but reverse thrust and much manoeuvring, pulled us out of it. The boater whose home faced destruction at the 19 tons of Mirrless said
"You handled that well!".
This was praise indeed!
We moored across from Shambles, The Noddy Boat, Mrs Miggins and other narrowboats to the sound of bleating lambs on the opposite bank, beyond the river Cherwell which runs alongside the canal here.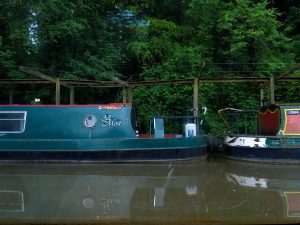 Just down the towpath and over the bridge to the left we found The Rock of Gibraltar. No, we hadn't gone wildly off course, it was the local pub which server great beer & cider and food. We got to know this pub quite well.
Here completes The Long Journey Home – Part 8.
The Long Journey Home - Part 7
The Long Journey Home - Part 6
The Long Journey Home - Part 5
The Long Journey Home - Part 4
The Long Journey Home - Part 3
The Long Journey Home - Part 2
The Long Journey Home - Part 1