The Long Journey Home – Part 5
Monday 4 June 2018
The Heat is On
The Long Journey Home – Part 5 saw the morning start as overcast. We had slept well and awoke early to make a start on the next part of our trip – the drive to Banbury. We had visited Banbury twice before but by car, on our trips up to Whilton Marina, to see our narrowboat. Banbury is famous for its cakes and the cross of children's nursery rhyme fame. We were determined to find the Cross this time, if not try a cake.
Best Laid Plans
We planned to pass through the four locks and moor up just outside the town centre. This was a shortish journey so would hopefully keep the overheating problem at bay and allow us to visit the town, before making a further short trip to just beyond.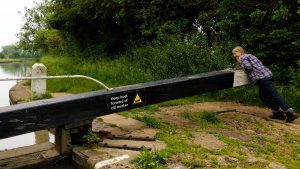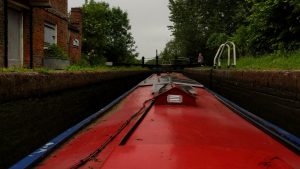 The best laid plans…
Mu had mastered the locks and I was mastering manoeuvring through them so the four were passed with ease and alone. We only saw two or three other narrowboats pass the other way, even though it was perfect weather for boating. We were looking for somewhere to moor, just outside the town (the canal runs through the middle of it), passing the odd permanently moored boat when the temperature gauge moved upwards, from its normally solid position by quite a few degrees. Pulling over onto the canal-side banking, just behind another boat and killed the engine – it has a kill switch. Cool!
I Need to Moor!
Mu walked on, only to find we were still quite a way out of the town and better mooring was to be had further on (it's all about the quality of the mooring). It turned out the boat next to us was moored against armcote on good solid mooring. We were not. We were on shallow mud banks which took about 15 minutes to free from. Much revving of the overheating engine (the expansion tank now full of water again after loosing it all, somewhere?) was required, which didn't help.
Finally free, we crawled on, between moored narrowboats, meeting one coming the other way and having to take evasive action. Desperate to stop but forced into the bushes on the starboard side by the slow, oncoming boat, we finally decided to cut a dash across to moor promptly shouting
"Sorry, we're overheating!"
They didn't seem pleased, just wanting to get past. If you're impatient, why come on a canal?
A Chandlery, A Chandlery. My Kingdom…
We were fortunate this time to moor up to armcote and 14 day moorings (gold dust this near to a town).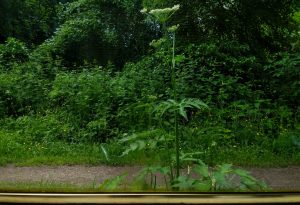 So, engine bay board up, scalding hot water reservoir cap off, cool life-giving water in and a disaster averted. We were moored 'inches' (technical term) away from Sovereign Wharf with Chandlery; an idyllic-looking little setup, pristinely painted but only open weekends and now Fridays! It was Monday! Never mind, a couple of hundred yards further on and you're in the centre of Banbury; well, The Castle Quays Indoor Shopping Centre, next to the famous Tooley's Boatyard. Here we would obtain the lifeblood of Mirrless; 15 W40 oil. And some stern gland grease.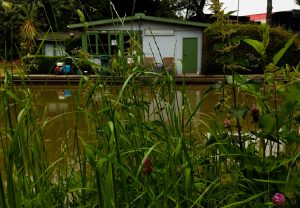 The centre part of this canal has a lift bridge followed by a lock to leave Banbury, so we walked to check them out as we would be passing this way in a few hour's time. Crossing the lift bridge to Tooley's Boatyard, we were confronted by the sign 'Open Tuesday to Sunday – not open Mondays'! Aargh! Instead, we retired for tea and scones at Cafe Red, on the canal front, across from the closed boatyard. At least that was open.
We looked around Banbury, briefly. We still couldn't find the Cross, then decided to ring the marina to address the overheating issue.
To the Rescue
The engine was supplied by Key Diesels, as used by the River Canal Rescue (RCR), with Whilton Marina fitting it. A call to Whilton, then a call to RCR resulted in an RCR Marine Engineer winging his way (by car, not narrowboat or it would have taken weeks!) to evaluate the situation. The enforced wait meant we could relax on the good mooring and buy some paint for the name (more later), some frosting for the bathroom window and a slimline (narrow) bin. Plus maybe a couple of other items…
Bob arrived after a couple of hours along with his van buddy (a dog) and after some time poking around in the innards of the engine bay, puzzling at the skin tank setup (don't ask – Mirrless is keel cooled), he found the issue. The offending item was the Bowman water reservoir end cap. It had a hole in it but being rubber, it held water until the temperature and pressure rose and opened a split and dumped water into the bilge, emptying the reservoir. Thus overheating.
"I don't think I've got one on the van but I'll check. We might have to get one sent over tomorrow".
He removed the old one (it was actually a Beta Marine engine part and the split was where a previous union clip had been). Off he went to the van. We waited. He returned.
Lucky Day
"It must be your lucky day".
He held in his hand, a part. Back in the engine bay – it fitted! Against all odds, the replacement fitted. Bill connected it all up, the engine ran and no water leaked. It was fixed!
A celebratory cup of tea and biscuits, the engine running and not overheating. It doesn't get any better…
Our problem had been found and fixed, so we could be on our way the next day. Bill had done good and the 2 months complimentary support had proved its weight in gold.
Liquid Engineering
We ate on the boat and then set off to visit Ye Olde Reine Deer Inn but upon arriving, found it was closed due to a private function – is Banbury permanently closed on a Monday?
Ah, well. Their loss was The Old Auctioneer's gain. Stowford Press and a nice Caledonian Brewery IPA on draught. Afterwards we wandered the streets and found the Cross! And the amazing statue of the lady riding a cock horse. It was a good night.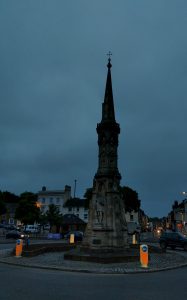 Still hungry because the ship's biscuits hadn't filled us up, we searched for a chip shop. There are no traditional Fish & Chip Shop's in Banbury town so, we eventually found Paw Paw; a Chinese restaurant which made delicious Egg Fried Rice and Chips & Curry Sauce – recommended.
Banbury is a nice town.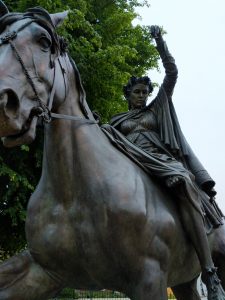 Here completes The Long Journey Home – Part 5.
The Long Journey Home - Part 4
The Long Journey Home - Part 3
The Long Journey Home - Part 2
The Long Journey Home - Part 1