The Long Journey Home – Part 4
Sunday 3 June 2018
Drama at Cropredy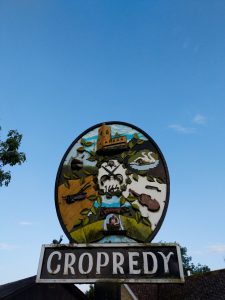 The Long Journey Home – Part 4 sees an earlier start than previous mornings, leaving bridge 143 on the Oxford canal at 08:45. Two boats had already driven past but apart from them, it was quiet. Another beautiful sunny day started to appear and it seemed that the practice of the past few days had paid off for us both. My helmsman skills were obviously improving as I could slowly manoeuvre into narrow single locks without banging off the sides and mu operated the locks with ease, helping other boaters as she went. Some of the locks did seem as though they could have benefitted from a little WD40 but we traversed the 7 without incident and in good time.
Just after leaving lock 24; Broadmoor lock we pulled over as the temperature dial appeared to be reading higher than it had been earlier. I didn't want a repeat of yesterday's 'steamboat' incident. Mu was in agreement "we should pull over, now!". I edged into the side of the canal then flung the centreline at mu. She caught it, holding cap and windlass but something had to go. It was the windlass – into the drink, splosh!
Aargh! No windlass, no locks.
Gone Fishin'
You may or may not have heard of magnet fishing. It's where people attach various strengths of magnets to various lengths of ropes and fish in a canal. They fish for metal objects or 'treasure' as it is termed. Well, we didn't have one of those implements. All we had was; my arm, a bungee cord and a claw hammer. The canal was deep at the point of entry for the windlass, which is typical! It hadn't been this deep on our journey, down the canal so far! Although my helming skills had increased in proficiency, there were still times when I got us grounded in the shallows on a mud bank. The good news is that I can get us confidently out of any situation now – with time and patience.
So, here I am, stripped to the waist, laid on a red & white polka dot piece of material (an old curtain from Mirrless) by the side of the canal. My right arm is dangling up to the shoulder joint with the makeshift grappling hook (of bungee cord and claw hammer). I'm dredging the canal where our bargepole (I wouldn't touch it) seemed to have located said windlass. After about half an hour and several narrowboaters passing and shouting "lost your windlass? We've all done it", I lift my arm. The windlass breaks the surface, excalibur-like. I reach to grab it but the Lady of the Lake obviously doesn't think I'm Arthur and it falls; Titanic-like back to the bottom of the canal. No further amount of prodding or dredging could locate it to bring to the surface once more. We had to admit defeat as the marina shop would be closing ()if it was ever open). We cut our losses and headed off to Cropredy marina and to hopefully purchase a replacement windlass.
Marina Blues
After making a pig's ear of the entrance into the services arm of the marina (to be fair, was like threading a needle), we pulled up to the diesel and water points. The marina was currently closed for lunch (how quaint) but would be open in half an hour.
This is a marina, a famous marina but it had no chandlery. This meant it sold no windlasses. No windlass, no lock. The next part of our journey would bring us to a lock in pretty short order. We were doomed!
Fill Her Up
We filled up the water tank (for free) while we waited for the marina to re-open. A nice marina employee filled us up with diesel (not for free) and after me mentioning about our predicament re. a windlass, he said he would see what he could do. Presently, true to his word, the guy indicated that the man from narrowboat Sturgeon was going to give us a windlass. He came over with one, it was an older type he didn't want any more. And he didn't want anything for it! I offered the £2.50 I had in my pocket but he waved it away. It was the second time in 2 days that people had selflessly given, to help us through a crisis – thank you narrowboat Sturgeon.
I left the marina perfectly, without banging the buffers at its entrance but there was no way that 58 feet of boat was going to make the turn to starboard in one. Two reverse thrusts saw us make the turn, just ahead of a now oncoming narrowboat. I then threaded through the old disused swing bridge (this was like a microtome slicing a histology section for analysis compared with the previous threading of needles). We carried on, then moored up, just before Cropredy lock 25. We rope moored to rings this time.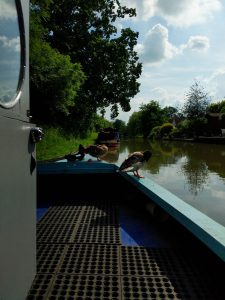 A Walk
We walked along to the village shop, which was still open. We bought some provisions and scouted out a pub to drown our sorrows about drowning a perfectly good windlass (she was brand new, shiny. An expensive one).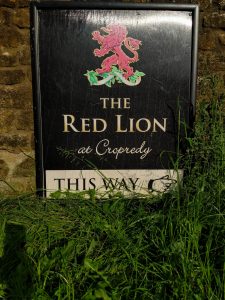 We had an ice cream before showering aboard (an experience) in readiness for the Red Lion later. We ate aboard first, then after a short walk it was Stowford Press cider and a pint of 'Fox', which was very pleasant and welcome. I also got to charge my phone – we're freeloading liveaboards now so any socket will do (I did ask).
After a relaxing drink, we walked back via the church (dedicated to St. Mary the Virgin but also mentions the Saxon saint; St. Fremond).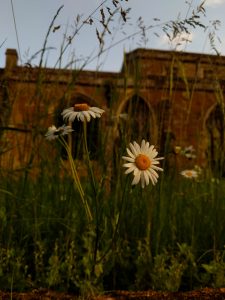 "What will tomorrow bring?". We were dreading to think at this point.
Note
Cropredy is famous for the Fairport Convention festival held here every year. It is held in honour of the electronic folk band's farewell concert that was held here. It returns each year.
Here completes The Long Journey Home – Part 4.
The Long Journey Home - Part 3
The Long Journey Home - Part 2
The Long Journey Home - Part 1