The Long Journey Home – Part 3
Saturday 2 June 2018
Phew! It's Hot in Here
The Long Journey Home – Part 3 saw us start the day after a great night's sleep at Napton Bottom Lock , just before the Folly Bridge at between 08:30 and 09:00. We rose the 9 locks, passing through the quaint little (disused) wharf of Marston Doles to Napton Top Lock. Mu had to empty most of the locks as they 'weren't our way' but a helpful team from the boat following us, helped out at some.
The Long and Winding…
Did I say the canal was twisting and winding in yesterday's blog? I was mistaken, today's stretch was twisting and winding – talk about The Long and Winding Road! At every turn was a bridge. At each bridge the canal narrows, so less water. Less water means less propulsion/lack of steering, so down to a crawl. It's funny how you always meet another boat on a bend or at a bridge!
See the Sights
You see a few people on the towpath as you wend your way around the Oxford canal; runners, fishermen, dog walkers, cyclists, naked people…
Naked people!
There I was, minding my own narrowboat business when, in the distance I saw a man who looked naked. Was I hallucinating from the diesel fumes? Was it dehydration sickness? No, a man appeared with his shirt off but a backpack on and shorts. I said good morning, thinking nothing of it. A minute later I turned to check the flow from the tiller and lo and behold, the man was naked! He must have taken his shorts off once past us. I suppose it takes all sorts…
One thing, you won't catch me trouser-less on Mirrless 🙂
We stopped for a break for lunch.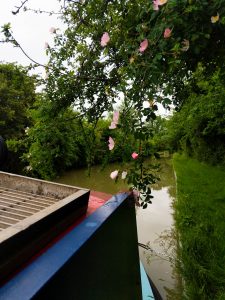 Fenny Compton (no, it's not a made up name)
After continuing on, we finally arrived at Compton Fenny and had to drive straight on by as it was moored to the hilt. We did manage to pull in at a Services Here point, hoping to top up with diesel and more importantly, get an ice cream but after pulling in, slowing up, pulling the boat on the centre line, mooring and getting the gunnel stuck under the lip of the path, we found it was closed 🙁
On and on past moored boat after moored boat until we eventually passed through a really narrow stretch of the canal. Again less water so slow progress but my helming skills were definitely getting better. We passed under our first swing bridge (cue that Big Band Sound…), literally an inch to spare on each side of the boat but straight through without touching the side.
Community Spirit
The sun was hot and we were tiring as we passed a community of Shepherd's Huts and narrowboats at which point, the engine overheated – the engine water header tank had run dry!
We pulled in on the opposite bank to the narrowboats, mu holding the boat on the centre line whilst I got water into the tank. A concerned boater from the community across the bank shouted out that better moorings were to be found around the bend. I think concern for their boats with some 'newbie' pulling up, clogging up the canal may have been uppermost in his mind. However, once we'd explained "We're overheating!" he couldn't have been more helpful. The engine had only used a little bit of oil but we didn't have any so he insisted on providing some. A second liveaboard shouted over
"Oil? I've got oil. How much do you need?"
The two put together and provided a quart of oil to bring the dipstick (not me) back up to the maximum line, after we'd punted across the canal and moored by centreline to Bill's boat.
Ian, Bill and Jane were legends. After about twenty minutes had passed I restarted the engine and all was cool, literally. The oil pressure temperature gauge was where it should be and the water temperature gauge was showing cool. We cautiously pulled off, waving thanks to the generosity of decent people who selflessly helped us in our time of need, our faith in human nature restored and BMC engines.
We passed two moored boats and pulled in just beyond bridge 143. Another idyllic setting. All you could hear was the sound of the birds (but not in a Hitchcock sense). This time we used mooring pins for the first time, rather than chains as there was no armcote.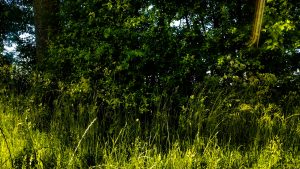 Are You Experienced?
Phew! What an experience of a day. It was the boat saying we had done enough for that day. Well, at least we had a shorter trip to Cropredy tomorrow but it will entail 9 locks.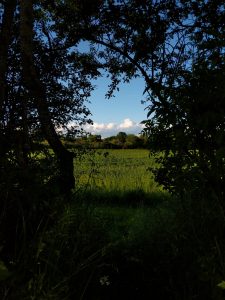 Here completes The Long Journey Home – Part 3.
The Long Journey Home - Part 2

The Long Journey Home - Part 1
rp – peace and narrowboats