The Long Journey Home – Part 27
Friday 3 August 2018
The Quantum Mechanics of Narrowboating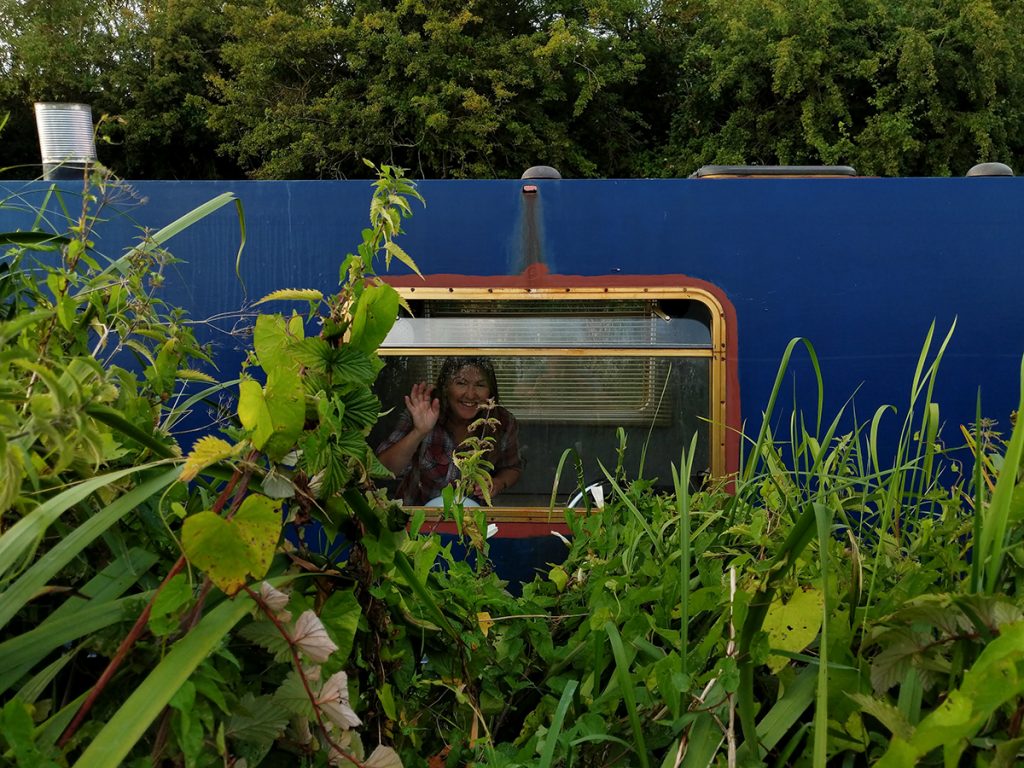 Once again we arrived at the boat and carried out those oh so important 'Safety Checks'
Boat still where we moored her? – check
Boat still afloat? – check
No-one living on board? – check
Everything on board just as we left it? – check
It's a worrying time when you crest the rise of a small hill to the canal or turn a corner or pass through a hedge to return to your boat. There's a split second when the boat maybe there or may not be there – a real Schrodinger's cat moment (I knew I could get Quantum Mechanics into this blog somehow. Tenuous is my middle name). There was only one thing, the gang plank had fallen into the canal but luckily we could fish it out.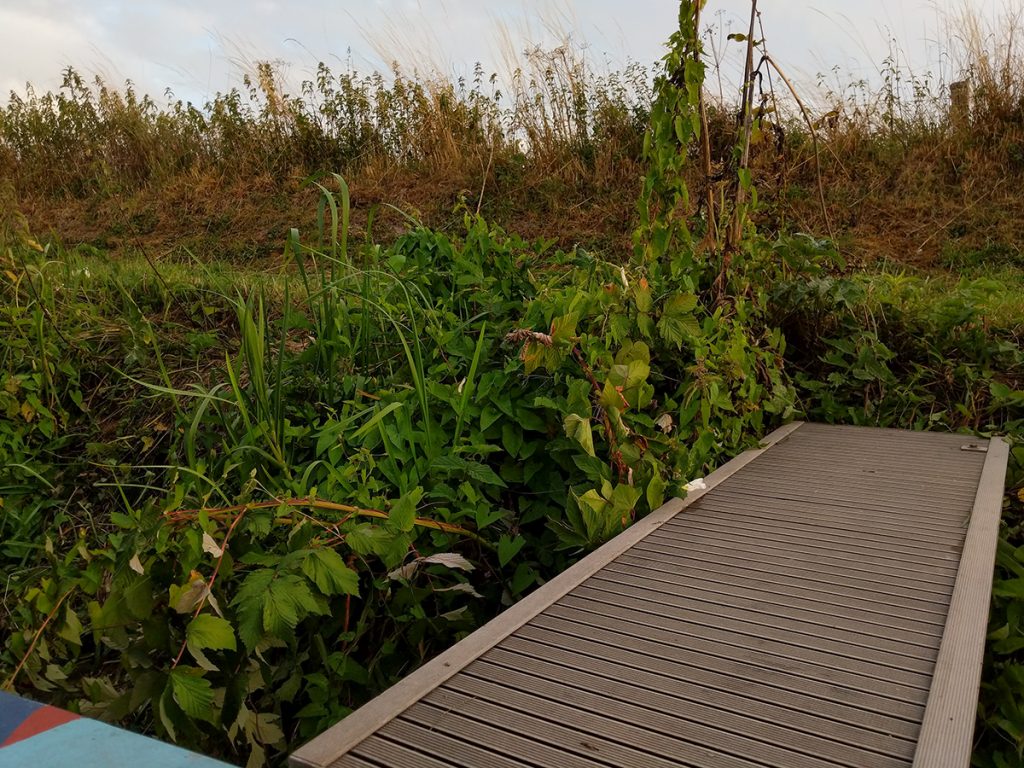 As we had parked the car (on loan whilst we were approaching a workable destination for living) near the boat, we had bought lots of things to take aboard: quilts and pillows, a new brush, some art materials, two rugs and even a fold-out single bed that doubles a seating (a cube). Once again, just for a change it was hot. We ferried the items from car to boat. One thing you get used to on the canal is displaying everything you own as you traipse it down the canal towpath, on full view for all to see.
After all that manual labour it was time to visit the pub. I hasten to add once again that visiting the pubs gives a feel for the place. They still provided a heart in the many places we visited. We liked to think of it a social historical research.
The Kings Arms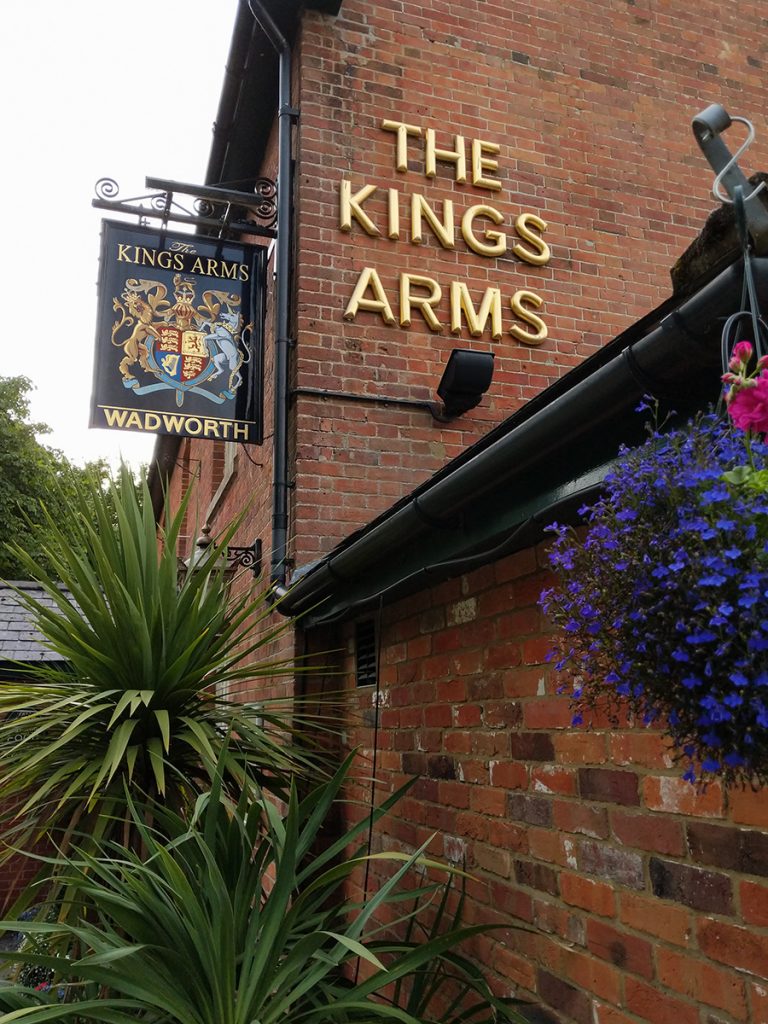 All Cannings is a beautiful 'thatch-cottage' village adrift in the Vale of Pewsey with only two things: a local shop and The King's Arms. The Kings Arms is famous for its yearly rock concert in aid of Cancer Relief. We've never been as it's not widely publicised but after visiting the location and sampling Wadworth's finest (Horizon Golden Ale is particularly fine) we would love to go. We sat in the garden.
Back at the boat, it was Vegetarian curry and rice, sat out on the deck in the glorious evening of a peaceful Wiltshire countryside.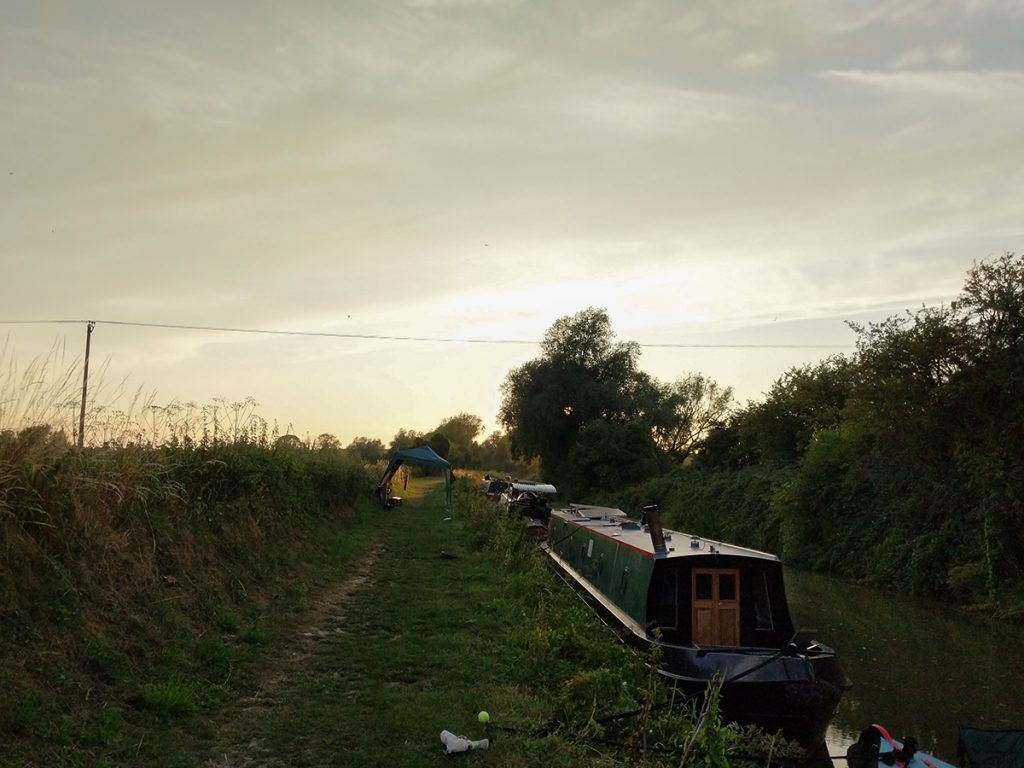 Saturday 4 August 2018
Devizes
Today we decided to stay put and not move on until Sunday. Seeing as we had a car (accessibly near by) we decided to drive into Devizes as it was just a bit too far to walk. Hardware shops, coffee, tea and toast and then Devizes Marina where we bought a D-Ring and a new mooring pin and ordered two boat fenders. We asked about the possibility of parking in the Marina car park next weekend. the very friendly staff agreed.
At the Marina cafe we had tea and complimentary biscuit as the cake I ordered had 'died' in the heat and was unfit for serving. We sat, looking out over the boats moored in the marina. It was a lovely spot.
In the Village
We drove back via Horton to see where we would be mooring and on back. We knew it would be very hot on board so went to The King's Arms, just to check it was as good a second time around – it was. There was a Mini Moke parked outside and it made 'The Village' very Prisoneresque. I wouldn't be indexed, numbered, briefed or debriefed and so had a pint of something. Then on back to the boat.
Sunday 5 August 2018
Staying Put
After breakfast, we decided to work on At The Jumpgate. We only had a shortish journey to Horton so time was on our side (Mick would have been proud). Or so we thought…
The sun started to hit the port side windows so we left the blinds down as we often had it, in an effort to stay cool. Our thoughts turned to setting off. We emptied the bilge of nappies we had left in over the week to soak up the last of the grot in the engine bilge. I performed the engine checks, cast off as the boat seemed pretty much grounded upon some point of the canal floor side so probably wasn't going anywhere. I then went to start the engine. There was the mistake. Instead of being overconfident, I should have started the engine 'before' casting off. I turned the key in the ignition – nothing!
Nothing!
I tried again – nothing!. It was totally dead! Panic! A boat went past and the front of the boat swung out. The stern was held but it was a significant away from the bank. I had to jump and only just made it off. So, we were moored back up where we started, we hadn't moved anywhere and we had no prospects of doing so anytime soon. Also our RCR cover had run out Friday and to set back up would take days (Direct Debit to spread the cost – doing this on a budget). So, thinking about this logically: Batteries, Starter Motor, other engine type stuff – there was a lot of it…
I fixed something!
I delved in, and after a bit of rummaging about, I found that a wire had become dislodged from the alternator. This must have happened when removing the nappies form the bilge. I reconnected it, tried starting the engine and yes! It jumped straight into life! Hurrah! We were back in business.
We pushed on to Horton without further incident. I was riding on a high. I felt like a real boater having fixed something. All I can vaguely recall was another visit to the Horton pub, probably…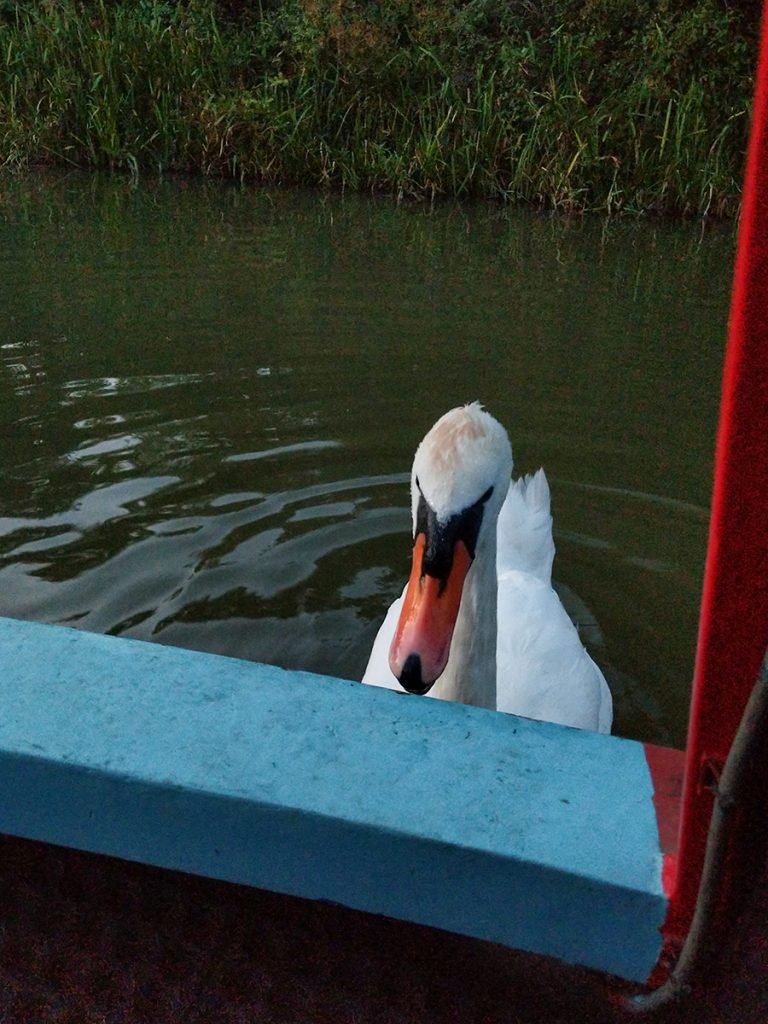 Here ends The Long Journey Home – Part 27
The Long Journey Home - Part 26
The Long Journey Home - Part 25
The Long Journey Home - Part 24
The Long Journey Home - Part 23
The Long Journey Home - Part 22
The Long Journey Home - Part 21
The Long Journey Home - Part 20
The Long Journey Home - Part 19
The Long Journey Home - Part 18
The Long Journey Home - Part 17
The Long Journey Home - Part 16
The Long Journey Home - Part 15
The Long Journey Home - Part 14
The Long Journey Home - Part 13
The Long Journey Home - Part 11
The Long Journey Home - Part 10
The Long Journey Home - Part 9
The Long Journey Home - Part 8
The Long Journey Home - Part 7
The Long Journey Home - Part 6
The Long Journey Home - Part 5
The Long Journey Home - Part 4
The Long Journey Home - Part 3
The Long Journey Home - Part 2
The Long Journey Home - Part 1