The Long Journey Home – Part 2
Friday 1 June 2018
The Folly at Bottom Lock
The Long Journey Home – Part 2 saw us awake to a misty morning that cleared quickly then walk into Braunston, a mile hike to find a shop for vegetables and fruit (to fight off scurvy) and the lure of a bakery. A shiny golden Hovis sign proved a false prophet as the place had closed down ages ago and was now a house. A supermarket materialised (small, local) where we picked up supplies and then walked back, down to the canal.
Cast off, not castaway
We cast off, professionally. A kind of side launch and set off on our journey, after making basic checks (and ringing Whilton Marina to discuss the engine water holding tank – always willing to help. Can't praise them highly enough).
No locks for this journey but a twisting and winding part of the canal. I thought canals were straight! Some are but many follow the contours of the land. This one certainly did – it was like a snake! The combination of contour-following canal, boats moored on bends, oncoming boats, a decidedly under-powered, small, outboard speedboat that owed more than a nod to Gerry Anderson, undergrowth and the concentration required not to crash, it was a challenging stretch. I only managed to bounce, buoy to buoy off one moored boat so I was pleased 🙂
The Snake
One thing of note was a grass snake swimming in the canal, just past a duck. I had no idea they could swim but apparently, they are very good swimmers (noted on a local information board). It's the first time I have seen a grass snake in the wild.
The Bottom Lock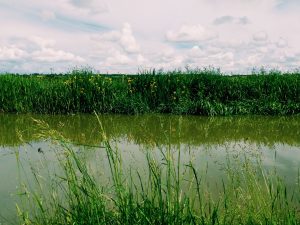 We continued on to just before Napton Bottom Lock. We were in two minds whether or not to push on through but there were 9 locks. In the end, we decided to just moor just around the corner from the bridge, before the lock. It was a beautiful afternoon and a beautiful location. I used my British Waterways Board key to access a water point to fill some bottles with water. We walked 5 of the locks before tea and then went to The Folly Inn, where there was local cider on draught and a beautifully refreshing bitter called Shagweaver from North Cotswold Brewery. It couldn't have been better. We sat out in the garden watching sheep & lambs eat their supper before walking to the edge of the village, then back to Mirrless to watch the sun set.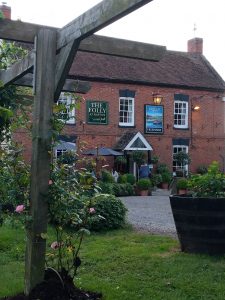 Thanks once again to The Rock of Gibraltar pub for the Wifi for the upload (and phone charge).
Here completes The Long Journey Home – Part 2.
The Long Journey Home - Part 1
rp – peace and narrowboats