A Short Move to the MML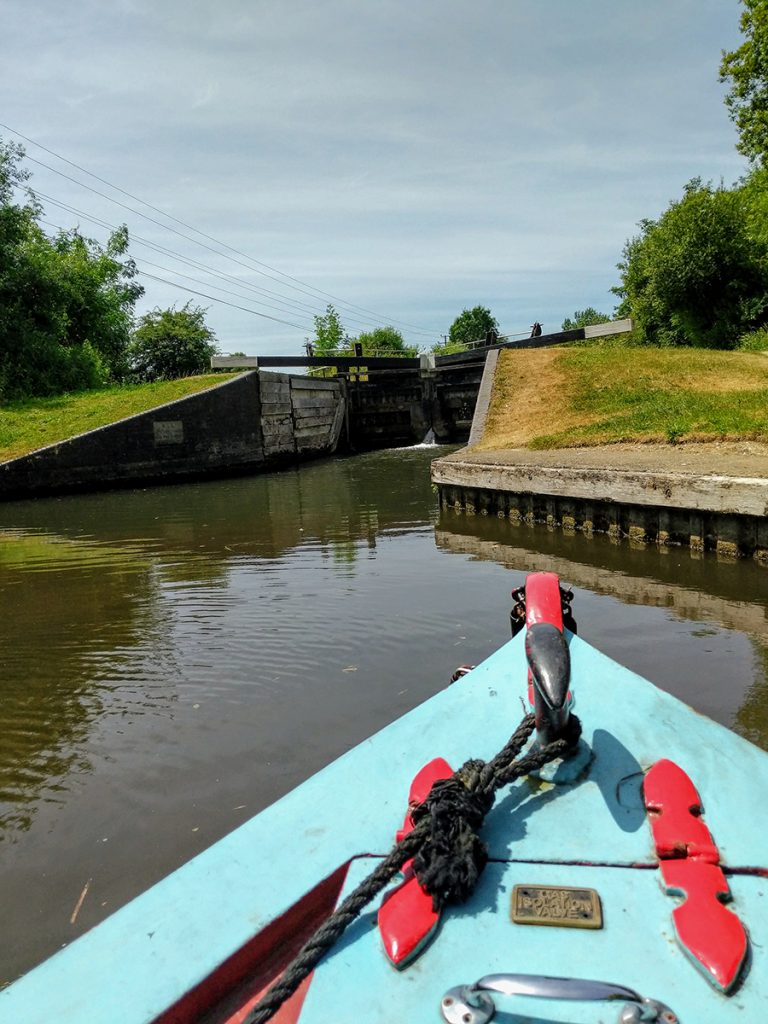 Sunday 24 June 2018
Awoke, walked into town, which in this case was Thatcham, had a coffee, used the toilet, the WiFi and the charging for my phone – all the old favourites. Today's boat move was a very short one: through Monkey Marsh Lock to moor between the lock and the swing bridge, just ahead of it.
Monkey Marsh Lock
Monkey Marsh Lock is one of the old, historical locks. It has 'living sides' of mud held in place by plant life. It looks kind of magical as greenery is revealed when the water drains fro
Pulling away from our overnight mooring it appeared deceptively easy but proved staggeringly difficult. The flow from the Kennet river pushing against, pushed us out and across to the other bank as soon as we released the mooring ropes. I was once again deep in the undergrowth, trying not to get grounded. It was our shortest journey to date and I was having problems the instant we cast off!
Finally off and down the short distance to the lock. A river flows in from the left so a 'hazard' of sorts. It was just our luck, a wide beam was coming down the lock. I was manoeuvring like a fish in a fast flowing stream. However, I was without the benefit of tens of thousands of years of evolution to fall back upon.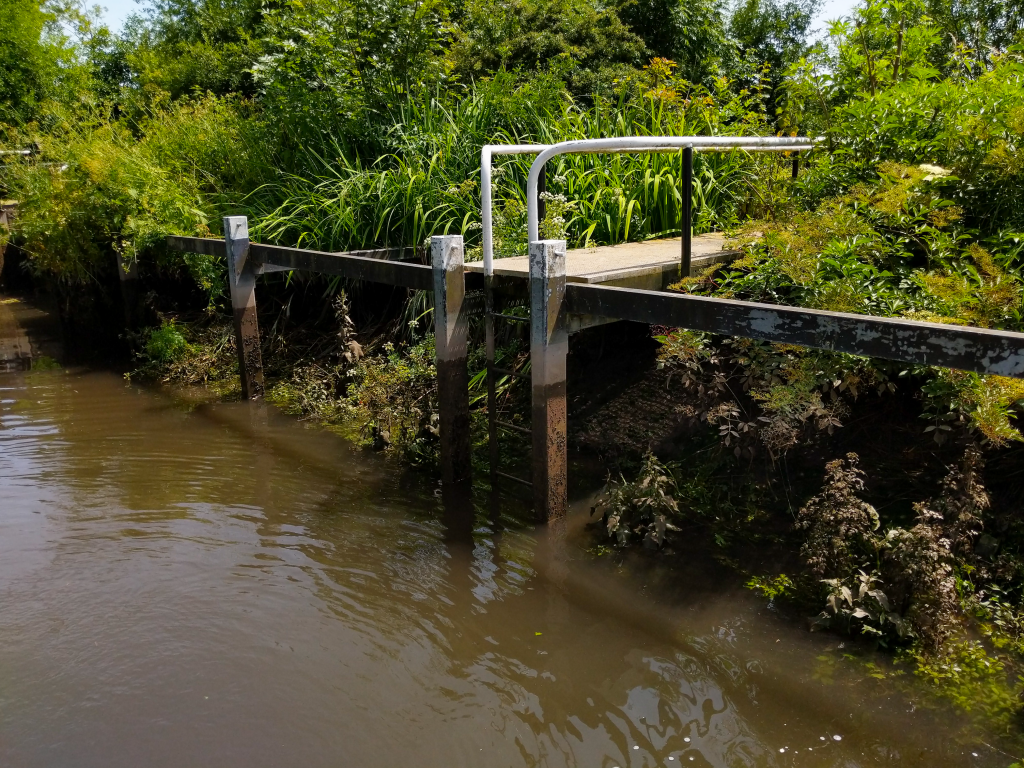 Wide beam gone, I could pull up to the lock gate (it was left open as the boat had come down, through it). This nearest one had a very narrow path across the two lock gates over which mu merrily skipped while I took the boat into the lock. With the gate paddles opened, the vegetation of the mud lock walls started to submerge. The seemingly fragile vegetation survives the aquatic world it is frequently plunged into, every time a boat enters and moved up or down. After use of this lock, you are requested to empty the lock whereas normally, you would leave it full.
Beyond the Lock
Beyond the lock is a serene world of still water, countryside and trees on the canal banks. The upcoming swing bridge which can be seen in the near distance. A boat was moored under a tree and we had decided to moor next to it earlier in the day (on a recce walk). Safety in numbers. Even if that number was only one more than one!
The spot was quiet: only the occasional boat passing, walker on the towpath and nature. We checked and re-checked the securing of the lines and the locking of the doors, then made the short walk back the way we had come, for the train. We were leaving to return to land for a week. Our only thought was whether or not we would see MIRRLESS in one piece again.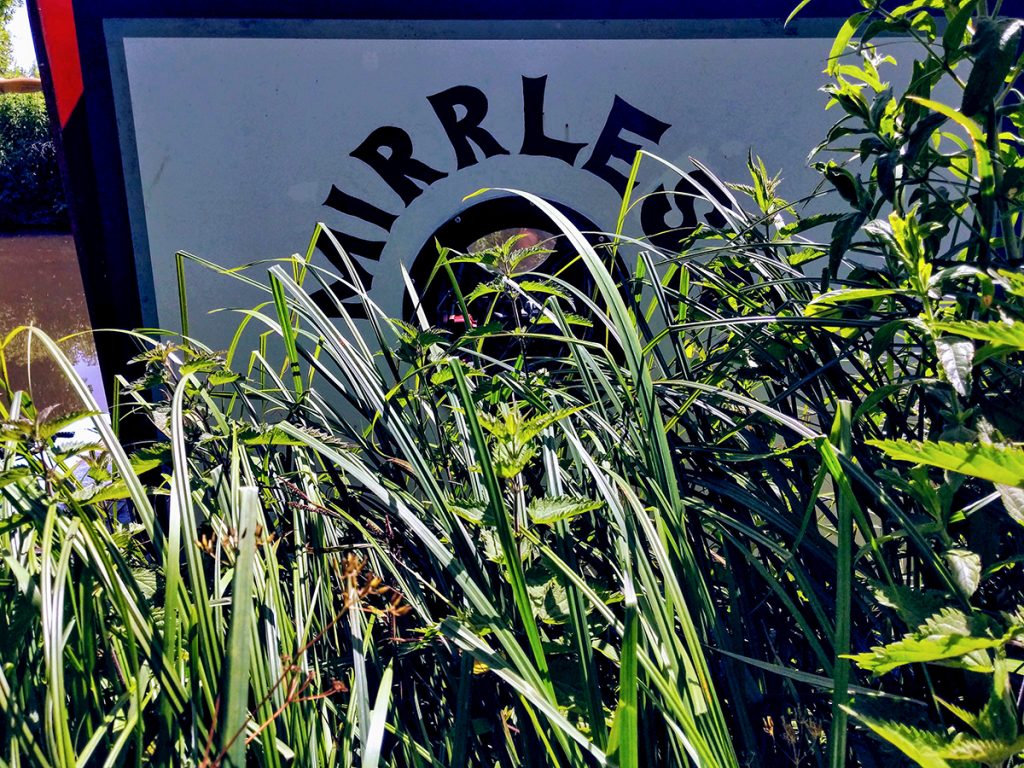 Boat name of the day: Ozymandias – reminds me of Watchmen although a more literary association was probably intended…
The Long Journey Home - Part 18
The Long Journey Home - Part 17
The Long Journey Home - Part 16
The Long Journey Home - Part 15
The Long Journey Home - Part 14
The Long Journey Home - Part 13
The Long Journey Home - Part 11
The Long Journey Home - Part 10
The Long Journey Home - Part 9
The Long Journey Home - Part 8
The Long Journey Home - Part 7
The Long Journey Home - Part 6
The Long Journey Home - Part 5
The Long Journey Home - Part 4
The Long Journey Home - Part 3
The Long Journey Home - Part 2
The Long Journey Home - Part 1