The Long Journey Home – Part 17
21 June 2018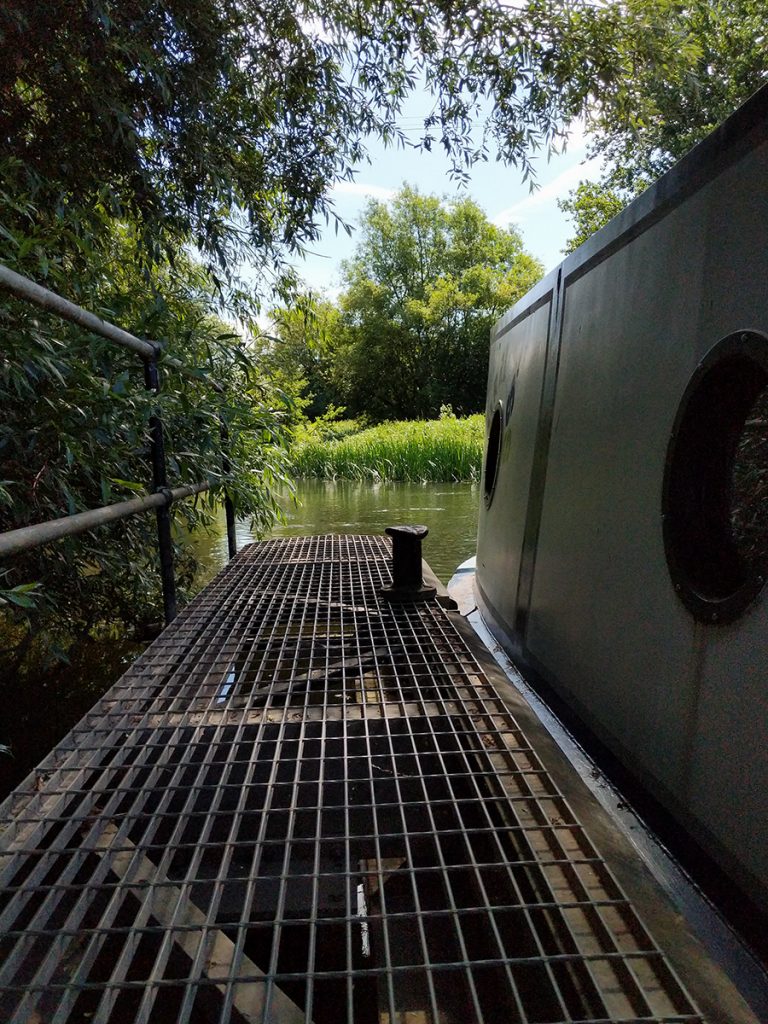 Up the Kennet & Avon Canal
Up the Kennet & Avon canal. It's not long before you reach Blake's Lock. It's the only lock under the EA's auspices on the Canal and River Trust's Kennet & Avon Canal. We were up early and through the lock ourselves as it was 'self-service' and then on into the centre of Reading. There is a section of the canal that is under traffic light control, just before going under a bridge, on a blind corner. You pull up to a pontoon and press a decidedly 'Pelican Crossing-like' button to change a traffic light from red to green. Some deft manoeuvring gets you alongside, the second person (mu) presses the button then off and slowly winding through the trappings of City life: Pizza Express, Giraffe, Zizi's, Wagamama's, the list goes on. Once through the gauntlet of restaurants you emerge at County Lock.
Temperature's Rising
Just before County Lock, I had noticed that the water temperature gauge was rising very slowly – aarrgghhh! More worry of overheating? As no-one was coming either way, I moored to the lock pontoon and waited. This is potentially frowned upon as the lock pontoon is for waiting to go through the lock whilst someone is coming the other way. But it was an emergency. After a period of time with geese looking on bemusedly, we went through the lock and on past the simple houses who had gardens that led down onto the canal with rural settings. No mansions or modern super-houses, just terraces giving more people a chance at 'riverside' living. I liked this.
Past ducks with ducklings but not a soul in sight. Then on around to our third lock of the day: Fobney Lock. There is a waterworks here so before turning and pulling up to a small pontoon on the starboard side, before a bridge, with the river flowing in, there is a massive out-rush of water from the waterworkings, pushing against the boat. The lock is just under the bridge so mu was off, onto the metal pontoon to pull the boat in on the centreline, to stop us being pushed off, bouncing off balloon barrages and down some weir. It was hairy stuff!
Unfortunately, the windlass which had to be placed on the metal pontoon got accidentally kicked and straight into the canal – aarrgghhh! It was the old replacement one we had been given. Luckily our new, spare windlass was on the boat. There was nothing we could do about it. The water was very deep here and the waterworks rushing infill made it more hazardous. mu went on to prime the lock, frowning and annoyed. I wrestled with the boat against the outflow, backing up and moving forward by inches then eventually, as mu opened the gates to a giant lock, I powered in, past the outflow. Then the fun began!
The Kennet & Avon Proper – Big Locks
The locks on the Kennet & Avon canal are gargantuan compared with those of the Oxford canal. Of course The Thames locks were also gigantic but being mostly manned, with a specific process in place and multiple boats they were fairly easily negotiated. I just assumed more of the same from the Oxford onto the Kennet & Avon. I was wrong. A single narrowboat, alone in a large deep lock was another matter…
With the gates closed behind, mu started to open a paddle at the front lock gate. We were climbing the canal. The force of water jetted through the gate. MIRRLESS had to be kept back, having such a low deck. The danger of flooding was real! As the second paddle was opened, a cross-flow of water developed and as I was holding the boat on the engine rather than roping (holding the boat on ropes, tied around bollards) twenty odd feet above (our centreline wouldn't reach), MIRRLESS was buffeted about: backwards, forwards, side to side. Also, because the lock was big, it took a long time to fill.
Eventually, we rose and levelled to a beautiful part of the canal network. Boats were moored and we pulled over to moor for breakfast just after Bridge 9 / Lock 109 Fobney. Once again, the sun was shining. The weather had been faultless.
Well Met
At this point, Ian (mu's brother, honorary crew member from p June 2018) rang. He was coming to meet us to get the chance to helm MIRRLESS (he missed the chance previously due to our mooring commitments). Great news! More crew and he was also bringing his temperature probe to see if MIRRLESS' engine really did have any 'hotspot' problems. We moved on after Breakfast and Ian came by car to Sheffield Lock and then walked towards us. We met synchronously at Burghfield Bridge, which just happened to have The Cunning Man country pub next to it. How fortuitous! As we moored, Ian arrived – well met. It would have been rude not to have a drink in celebration so London Pride was sampled along with a local ale for Ian and some local Scrumpy for mu. It was the afternoon, if early afternoon…
Watered and engine discussed, we departed and Ian helmedfrom the start, getting to grips with the vaguaries and quirks of MIRRLESS. It's no hire boat.
Lock 103 provided a good grounding in helming and Ian was coping very well. Beyond the lock, turns and straights and a chance to try differing speeds (slow, slower, very slow, a bit faster…) and under the M4 – a massive bridge, admired by Ian who is a Civil Engineer (very civil actually), was Lock 102 Garston Lock. This lock above all others will indelibly be printed on my mind. Not the lock itself but the water just after it, on the mooring side, post lock.
Making a Splash
Ian passed through the lock admirably (or should that be Admiral Bly?), I went along the starboard gunnel with the centreline to be able to pull the boat in so mu could step aboard, after finishing setting the lock gates. One minute I was on the gunnel, the next, in the canal! Not a toe or a foot but full immersion, like some biblical baptism! Luckily I was still holding the centreline but gasping for breath. It was cold! I tried hauling myself out by the line twice before succeeding and getting a footing on the gunnel – I needed to get fitter! The boat was now nearer the bank and I could strip off.
Ian had turned around, turned back and thought I had gone into the boat via a side hatch. We don't have a side hatch.
mu was at the lock, looking over and had been thinking
"What the hell's he doing, swinging from the centreline rope on the side of the boat? Is this some new technique he's showing my Brother?"
Then "He's not fallen in has he? He's wet! He's fallen in!
I stood dripping. Everything was soaked. Who said canals are only four feet deep? My trainers squelched and I was getting cold. They say you're ot a true boater intil you've fallen in. Well, I'm a true boater. I fell in!
The Canal is Vile
I had to get out of everything and have a shower. All I could think of was 'Viles' Disease. The trouble was, I only had the pair of trousers I was stood up in, when I fell in. This was on account of limited portage from the railway station. Luckily Ian had brought a spare pair (for the 'engine survey'). I took charge of his best trousers, to continue our journey
"It's the wrong trousers Gromit!"
After an impromptu shower, we set off (Ian and mu both still laughing) and decided to go the short distance to Sheffield Lock at Sheffield Bottom (I hale from Sheffield, South Yorkshire so some further hilarity ensued at my expense…).
Ian finished his session by driving through Theale Swing Bridge and we moored up just beyond it. He lent us his lump hammer (He'd carried it in his back pack and didn't want to have to carry it back). This item made putting in mooring pins so much easier.
A Key Learning
A key learning from today's lesson was don't go 'toe to boat side' (in trainers) down the gunnels, always go with your feet side on. The shock of the cold made me forget about swimming, so another key learning is don't panic. And finally, expect the unexpected. It's always safety first. We need to get some anti-slip paint on the gunnels.
Ian had expereinced a whole range of narrowboating scenarios and hopefully had a great time. More importantly, he had come with a quiche which we ate that evening, after visiting The Fox and Hounds at Sheffield Bottom (I love that name).
Ian would have countless tales to tell, not least the man overboard survival technique!
Now Seriously
On a more serious note, if someone falls in the canal you need to ensure the boat keeps away from the bank and the person overboard (which Ian did) to avoid any crushing accident. A line or a ring (or both) should be used no matter how trivial (or funny) the situation seems. Luckily, I still had hold of the centreline. We will buy a life ring and we will get mu a life jacket as she is by the locks (above them) most of the time.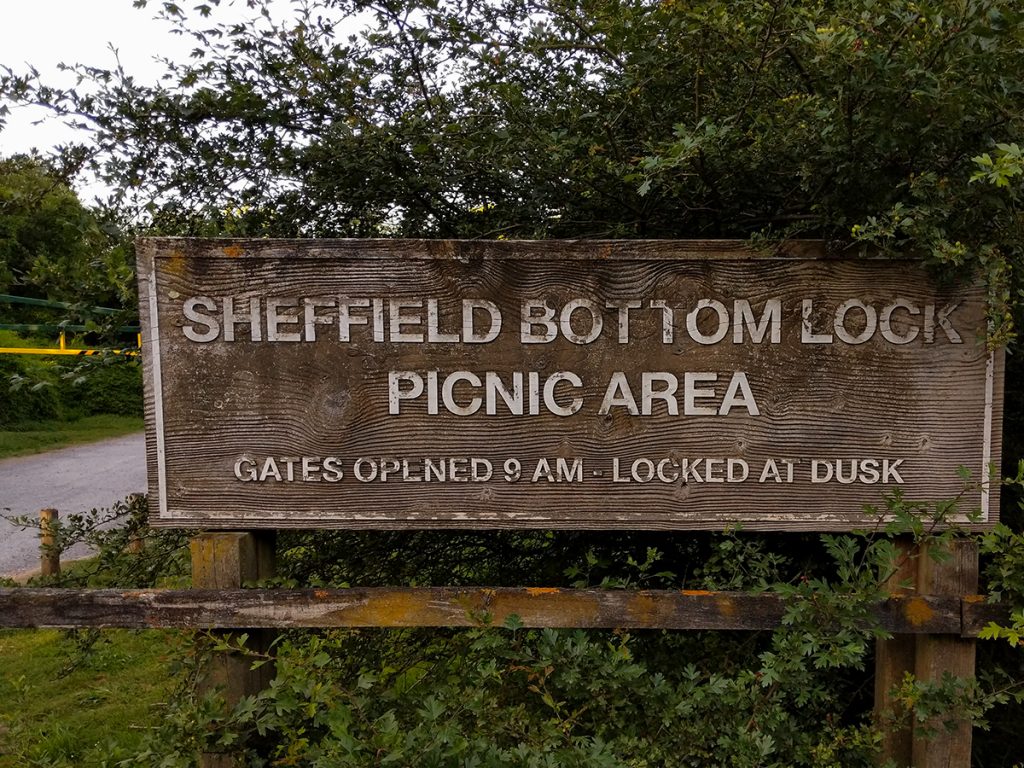 Here ends The Long Journey Home – Part 17
The Long Journey Home - Part 16
The Long Journey Home - Part 15
The Long Journey Home - Part 14
The Long Journey Home - Part 13
The Long Journey Home - Part 12
The Long Journey Home - Part 11
The Long Journey Home - Part 10 
The Long Journey Home - Part 9
The Long Journey Home - Part 8
The Long Journey Home - Part 7
The Long Journey Home - Part 6
The Long Journey Home - Part 5
The Long Journey Home - Part 4
The Long Journey Home - Part 3
The Long Journey Home - Part 2
The Long Journey Home - Part 1