The Long Journey Home – Part 10
Saturday 9 June 2018
Our First Visitors and a Short Trip
The Long Journey Home – Part 10 began with us cleaning the boat. We needed to do this as will become apparent. Most importantly, we checked the level of water in the newly installed header tank. The level had gone down but only by a little. Maybe it was finding its level. We were waiting for my Brother-In-Law Ian and his wife Christine to arrive, hence the cleaning. They were to be our first guests aboard. After everything had been made as presentable as it could be (including myself, difficult job I know) we sat outside on the deck, enjoying a cup of tea – it's a narrowboating tradition. Suddenly
"Hello! Excuse me!".
A stranger on the towpath was waving & calling and pointing across to the other side of the canal, just above the marina. It was Ian & Christine trying desperately to get our attention.
"You're on the wrong side!".
I went off jogging to meet them. I must be more specific in future
"On the towpath side…" 🙂
Our First Visitors
Our first visitors, bearing wine and beer – the best kind of visitor 😉
Welcomed aboard, we sat out, on the deck, in the sun enjoying a drink, discussing the merits of the mooring and how the engine was performing and how wonderful the weather was. It was glorious. It seems that no matter where you moor on the canal system, it's always a great location.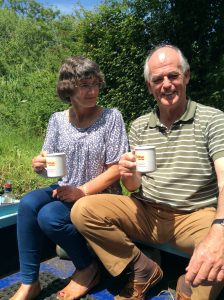 Now, Ian & Christine had come for a trip on the boat, to get a feel for it but the day was young and it was, as had been said; wonderful. We decided, once again to walk to Thrupp.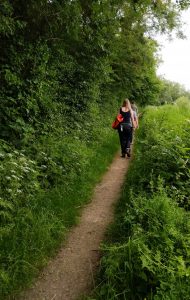 Ian had a chance to photograph the bridges and Annie's Tearoom was a welcome sight once there. I recommend the Toasted Teacake. The walk is very relaxing and takes you through a wide range of canal journey; bridges, a lock, various types of towpath, a river as well as canal and moored narrowboats as well as cruisers etc. We had got to know this part of the Oxford canal quite well by now. It's worth visiting if you ever get this way.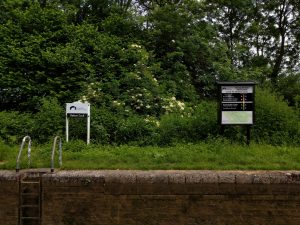 A Short Trip
Back onboard Mirrless, we set up a journey so our visitors could experience travel on a narrowboat. So, we performed engine checks, fired up the engine, cast off the centreline and then we moved the boat, out and south towards Oxford 20 yards and then mu pulled us in, on the centreline, in front of the boat we had been moored next to. Short, very short but sweet! The problem was, we didn't want to lose our mooring spot. We felt this was a safe and logical place to break our journey. We had however gone through all the motions but our guests would have to visit again for a more representative trip (it was all just a ploy to get them to bring more wine and beer 🙂 )
We locked up Mirrless, nervous about having to leave her (there! I've done it. I've called the boat her!) but feeling this was as good a place as any. We strapped in for The Gumball Rally part two and made Godspeed back to Wiltshire. It would feel strange not sleeping aboard Mirrless that evening.
A Big Thank You
We both have to say a big thank you to Ian and Christine for taking the time to come and visit us and giving us a lift back to the South West (I had work the next week).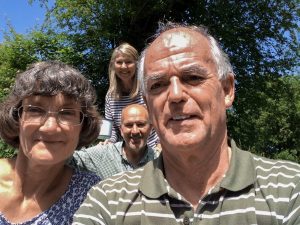 Here ends The Long Journey Home – Part 10
The Long Journey Home - Part 9
The Long Journey Home - Part 8
The Long Journey Home - Part 7
The Long Journey Home - Part 6
The Long Journey Home - Part 5
The Long Journey Home - Part 4
The Long Journey Home - Part 3
The Long Journey Home - Part 2
The Long Journey Home - Part 1