The Long Road to Mirrless – Part 1
Monday 21 May 2018
Monday, the engine was going in after the stern gland assembly, of course. But of course, you all knew that. We had the chance of a lift from my brother-in-law to Northamptonshire, rather than incurring the expense (and hassle) of a hire car. He was travelling 'up North' and a short detour to Whilton Marina was doable.
A Lift
We travelled, at speed; A303, A34, A5. What you have to realise is that for years now, the vehicles we have owned either couldn't or weren't allowed to go above 50mph – Land Rover Defender CSW (50mph if it could make it), Land Rover Defender HT (50mph, Commercial vehicle limit), VW Transporter (50mph, Commercial vehicle limit). The run up to Whilton for us was like being in The Gumball Rally! It took about half the time it took us previously 🙂 I must add, no rules were broken in the writing of this blog post.
At The Marina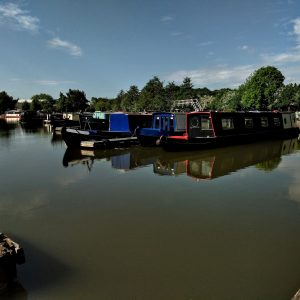 Brilliant sunshine, went through the narrowboat detail, paid for it (ouch), saw the boat; the stern gland assembly was in and looking shiny & new, we were told in detail, how the engine bay had been modified to update it to take shiny reconditioned one. However, the engine in all its glory was by the side of the boat. It wasn't in yet. "Going in next!" shouted an engineer. Basically it will have all new running gear from start to finish. We got a lift to the hotel we had booked; the Heart of England.
We sat out in the garden, drinks in hand (Marstons Pedigree – it was a Marstons pub), relaxing but little knowing the canal was but inches away from us, down a bank, behind the garden. We found that out the next morning.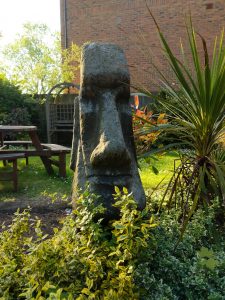 A Relaxing Day.
rp – peace and narrowboats