Here be dragons – my website A Delicate Fantasy is up and running. It's here you'll be able to see all my watercolour output.
My latest completed piece of work is Dragonboat – it's a piece that's going to represent what A Delicate Fantasy is all about and it will be the jump-point from murpworks.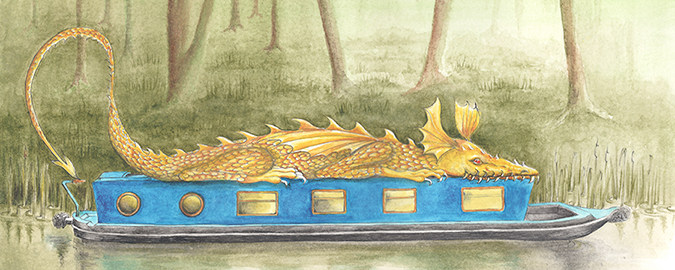 I live on a narrowboat – MIRRLESS keeps murpworks afloat
On the canal network of England & Wales, there are many narrowboats of many sizes and styles but the ones that stand out for me and inspire me are not necessarily the pristine vessels of immaculate pedigree. No, it's the ones, packed to the gills with paraphernalia along the lengths of their roofs. The liveaboad's boats, who carry all they need to exist. It struck me that the tarpaulin-covered vessels looked like they were transporting dragons.
Check out A Delicate Fantasy because Here be dragons
mu