They say a new brush sweeps clean but who are they? Anyway, I'm hoping these new brushes help me continue to develop my watercolour painting.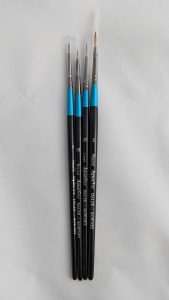 They're Daler <> Rowney synthetic Aquafine watercolour brushes, three Round; a 0, a 2/0 and a 2 and one Liner; a 10/0 (it must mean something to someone 😉 )
They bristles are synthetic, so no animals were de-furred in the making of them. I hate the thought of squirrels or boars running around with parts of their 'coat' missing. Especially in this cold weather 🙁
The brush heads – bristles are very small, which is fine as all my work tends to be tiny – no big swathes of canvas to cover.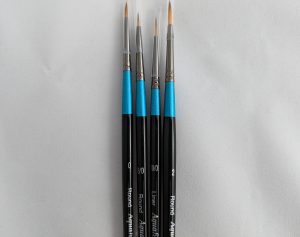 I'm currently thinking about what to paint with them and I'll update on how I find them once I've had a chance to use them in earnest. I need to start something soon as I'd hate to be thought of as someone with 'all the gear and no idea' lol!
I found this great article about the antomy of a paintbrush at clothpapersissors.com.
I think I'll go and update my equipment list 🤓 *
*  Emojipedia – Nerd Face
mu