Space for a Robot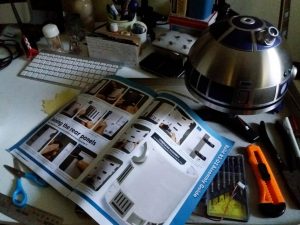 If I'd have known how many episodes this went on for, I probably wouldn't have started it. If I'd known how big it was going to be, I probably wouldn't have started it. However, once I'd invested in a few episodes, it was difficult to stop.
In a Newsagents Far Far Away…
As stated before, I'm building R2D2 from Star Wars – a quarter size scale model from DeAgostini.
It's metal and high quality plastics, wiring, diodes, circuit boards and goodness knows what else. I'm up to episode 75 with 25 to go. The trouble is it comes out every week, not monthly as I'd originally thought. When they say small print, they're talking nanometres not inches. I collect the magazines in batches of about three or four and every time the lady at the newsagent asks me how I'm getting on – I thought I'd better get on with some more so I can truthfully say "I'm making progress".
Problem-solving
It's a great model and I am enjoying the intricacies of assembling and all the electronics. It's a great way to relax from everything else. While everyone is competent at putting Tab A into Slot B, this is a bit more hooking strange-looking plasticy bit into metal flange that looks to have a bit missing! There's a lot of problem-solving required using forums and even buying a back episode I missed. Thank you internet, you're my only hope!
However, the real reason I'm so enjoying building R2 is because there's a link to another project I'm currently working on, in conjunction with rp; At The Jumpgate – an episodic, sci fi, webcomic set in the far future with Max as the main protagonist.
As you may have heard, we've bought a narrowboat so the main problem-solving I'm still having to figure out is, where I'm going to put it, aboard Nb Mirrless!
So, if anyone has space for a robot…
Ah, well. Back to the instructions…
mu