I'm back from my first upholstery class!
I have signed up for an upholstery class, locally in Warminster at Sweetman and White with the lovely proprieter Claire Matthew, who is passionate about upholstery. It's a ten week course, of ten sessions and I'm going to use it to re-upholster a chair I have.
Laura Ashley
The chair in question is a small Laura Ashley Slipper chair, bought in 1987 in Bath. It's currently covered in a Sugar Pink/White striped fabric that's quite jaded and so needs a new lease of life. It's currently deeply buttoned, piped and has got a valance.
The smudges you can see on the seat are the children's hand prints from when they were very little. They used to pull themselleves up by it and balance, eating a rusk or two. So it's for treasured memories this chair makes it aboard the narrowboat 😉
First Steps
Today being my first session and I had to transport the chair down to the shop premises. Luckily, I can leave it there for the period of the course , so I don't have to keep bringing it backwards and forwards (which is good, as it's quite bulky to carry).
It's going to be a long process, today I spent most of the time removing the staples that had been used attach the valance and hessian underneath the chair. I did however find an original ticket detailing the chair's details.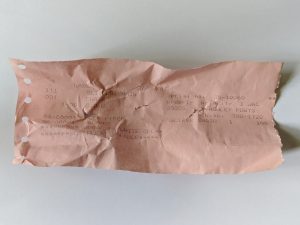 I'm going to add it back where I found it when I cover it in the new fabric
Upcycle
The chair is going to live aboard our narrowboat. It's going to be part of the Upcycle – a re-use of things we own, re-purposed for life afloat 🙂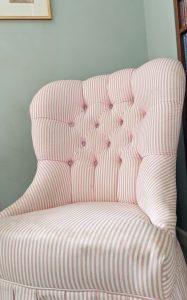 I'm currently thinking about what type of material to use (it needs to be a bit thicker, more hard-wearing) and what colour it should be (the pink is too twee, I need something less bedroomy) . I'll leave that for another update though, when I've made up my mind.
Well, that's all for this post but don't forget to check back each week to follow my progress.
Now where's that material catalogue…
Did you know that the word upholstery comes from the Middle English word; Upholder and points to a repairing of furniture rather than making from new – thank you Wikipedia
MU