I'm trying to make something out of nothing
RP and I are moving onto a narrowboat. We're in the process of buying it at the moment. The waiting's not easy.
I'm No Square
One of the things I'm busy with at the moment is making something out of nothing. I'm taking all RP's old (and not so old) jeans, cutting them up into squares and then i'm going to patch them together which is going to make a cover. This cover will form the basis for a visitor's bed. Obviously it will have to have some substance so I'm also busily scouring the web for some foam that I can have cut into shape. There will be 3 pieces that will stack but ingeniously lay out into a bed when required. I also need foam for the Dinette as it needs replacing.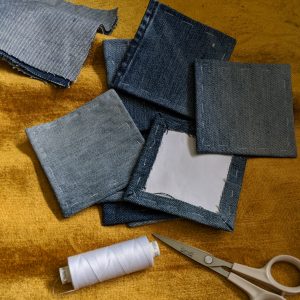 Convince Me of Something
RP's not convinced as yet, not just because I'm cutting up all his jeans (he says he needs new ones anyway), he needs to see what it will look like. Patience!
I was originally going to make a quilt cover with the denim but I think it's going to be quite heavy so, I've adpated my approach 🙂
Template
I've been using paper to make my squares but I need to make a more robust template; thin metal or maybe even wood. That's the next thing on my To Do list. I can then hopefully push on and make a bit more progress.
Now, where did I put that pair of RP's jeans?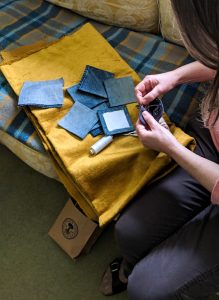 You can follow our adventures of buying a narrowboat at Tales from the Bilge
MU