It's out of the water! The narrowboat's out of the water!
"Shouldn't it be IN the water?"
Oh, OK. But what this means is that the marina are working on getting it ready for action/blast off/launch. The hull has been pressure washed, the pits are being prepared for puddle welding, sacrificial anodes are being selected for attatchment and a whole host of other technical things will be carried out this week.
Bad Dates
We are just awaiting an official date for handover which is somewhat dependent upon aforementioned technical jiggery pokery but we are within two weeks of taking the helm (I'll bring it back, I promise). There are no bad dates, just good ones…
As soon as I get the official nod, I'll post.
Preparation
Preparations have reached feverpitch! We've been in the loft and brought down boxes of things we never knew we had. Stuff is placed in piles; for the charity shops, for the tip, for posterity. I've even got rid of another book!
Is That Our Boat?
We check the marina webcam every day to try and catch a glimpse of movement across the marina – "Is that it?". "No, too long", "Too short", "Too expensive", "Wrong colour", "Wrong stern-type", "Just wrong!".
The hardest part is waiting. We can only do so much until we have a date but being patient is not easy. I've heard it said that once you are on a narrowboat and on the canal, you enter canal time where time appears to slow, as you ease into a different way of life.  I suppose we have to start thinking in canal time.
I'm waiting to start a two week holiday where the journey will begin. There's no realistic way of telling how far we'll get in two weeks – it's all going to be new. Two weeks of new.
At this point, (wherever that is) we have the luxury of handing over to my brother-in-law who will take over, along with his wife and hopefully bring the boat the rest of the way, down to the West Country.
Anyway, just remember: 'To err is human, to arr is pirate' – can't take the credit, saw it on a flag on a boat the other day 😉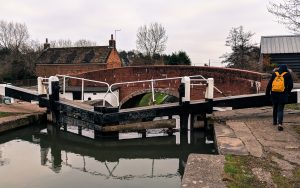 rp – peace and narrowboats