The Long Road to Mirrless – Part 3
Wednesday 23 May 2018
Wednesday, we were refreshed and made our own breakfast from a combination of Tesco and Budgens (it was hardly dining on mince and pieces of quince but it was pleasantly passable). Frugal was to be the order of the day. And the subsequent ones to come.
The narrowboat was to be ready today, surely? Again, the day played out similarly to before; have to vacate by 12:00 Noon (should that be High Noon?), call marina at 10:30, they need to get an update, resources dwindle further (let's be honest, there were no resources), start to approach witzend (again!).
The Long Road
Mu decided that the only way to approach this was to walk to Whilton Marina and ask to stay on the boat. We would throw ourselves on their mercy or in the marina.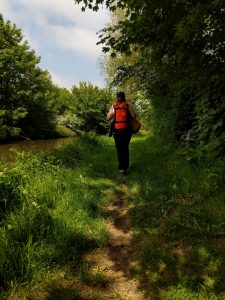 Mu and I had planned to walk to Whilton, it was 2.9 miles and following the canal towpath was a lot better than following the main road. A long path rather than a long road to Mirrless. We set off, in full sun once again, it took an hour (or maybe just over) and we passed through some of the most beautiful countryside there is.
Upon arriving at the marina, announcing we were purchasing narrowboat Mirrless, room-less, penny-less, energy-less, breathless and every other kind of less, Fred; a marina sales person said he would see if we could stay aboard. Just before he left to walk down, from the office to the marina workshop (a walk he would make many times), he gave us vouchers to go and get a hot drink and a sandwich on Whilton Marina. We sat outside the cafe, victuals reviving our flagging spirits, waiting for news of narrowboat Mirrless' progress in respect to sleeping aboard, rather than sleeping outside.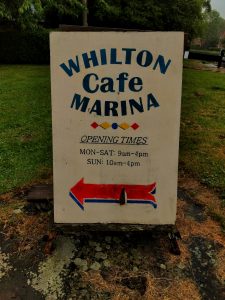 The Good News
After a bit of time had passed, across came a colleague of Fred
"You two look like you could do with some good news". We could.
"The boat isn't ready quite yet, there are still some things to be done and a Boat Safety Scheme certificate hasn't been signed off as yet. We can't let you stay on board but we have booked two nights at The Crossroads hotel, at the marina's expense. We'll drive you there when you're ready, there's no rush and we aim to have the boat ready by Friday".
A delay to moving on board but for the right reasons – our issues melted away…
We were chauffeured by VW Transporter to the hotel (the one we had vacated earlier this morning 🙂 ) We decided to enjoy our forced holiday.
A relieving day
The Long Road to Mirrless - Part 2
The Long Road to Mirrless - Part 1
rp – peace and narrowboats