That Sinking Feeling – when you've got everything but the Kitchen sink.
After the euphoria of finding the narrowboat you want to buy, the adrenalin rush subsiding and you're left shaking by the canal bank, the actuality gradually dawns – it needs some work.
You suddenly notice that some aspects of your narrowboat pride & joy look a little jaded. Lacklustre if you will. Somethings need to be refreshed; there's a scratch here (well, several), it could do with a touch of polish there (well, all of it) and the Galley (the technical term for the kitchen) well… The Galley is one of those things.
The configuration of the Galley is right, we wanted it along one side, not a walk-through with units on both sides of the boat, so you have to squeeze through or wait for someone to pass, so you can then get by. It's just that one of the units needs changing, and there's a door we want to do up and we want a new cooker and…
The Patina of Age
It has obviously served the boat and previous occupants well and whilst I'm all for a patina of age, we're going to do up the Galley.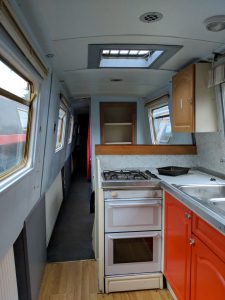 With weeks and weeks still to go before the boat will be ready, one thing we can do is get some 'bits and pieces' and at least feel like we're moving in the right direction. With the Galley in mind, we've bought a sink and a draining rack to go with it. It's a small sink and we've been trying out basic mock-ups to ensure we got the optimum size; not too big so as to waste preparation space and not too small that you can't effectively wash up in it. How did we do this? With a paper layout of the kitchen, sorry Galley in the sitting room, to scale and set up so we can see how different layouts will work. It's a sort of role-playing while no-one's looking, but there are no Hit Points or Dragons.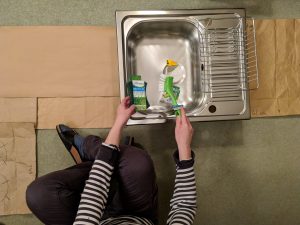 Accessorise
It's all coming along nicely, we've even bought an EasyDo Products ecoFORCE recycled (89%) Dish Brush for cleaning the pots and pans pot and pan (there's only so much space to store stuff and mu insists she's a one pot cook). Ooh, and x2 brush refills and some recycled (97%) Heavy Duty Kitchen Scourer Pads from the same company. At least that pot and pan will be clean.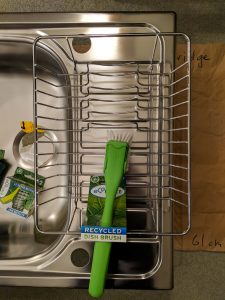 We haven't got everything but at least we've got a kitchen sink.
rp – peace and narrowboats