Gentlemen, Start Your Engines…
"Not you Sir, we have to swap yours out!"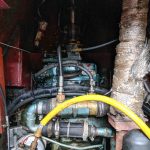 So, while we had hoped to have been out on the cut tomorrow, we're taking a pause for breath – the marina is replacing the engine. They are replacing it with a reconditioned one, with full warranty and they're sourcing it from the same place the River Canal Rescue people source theirs from! That must be good.
We Are Sailing Waiting
We have to wait a little longer but I will get a firm date early this coming week but it will most likely be Friday 11 May. This means we will travel up to Northamptonshire on the Thursday and take a handover on the Friday.
It could however be earlier, so stay tuned…
Replacing Engines
Why the engine replacement? I think the technical term used was that it was Cream Crackered. It is also going to be lowered in the engine bay and properly mounted (stop sniggering at the back!).
In the past, engines were placed on blocks of wood but proper engine mountings are required now. Ours was on blocks. These will be removed and there's some re-fitting of the engine bay required and it will then be placed on engine mountings.
All in all, this is great news for us. We will receive a vessel that is going to be able to withstand the rigours of liveaboard and cruising the cut.
The Beast
I will be sad to see this beast go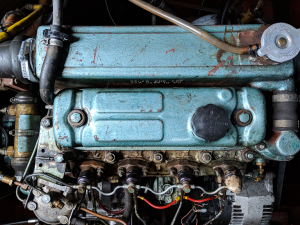 (It was one of my favourite photos) but I'll post the new engine in all its painted (yes, it will be freshly painted) glory.
In summary, a little more waiting but that just means we have a little more time for preparation. The question is, can you really prepare for something as momentous as this? I finished a book this Friday – The Lies of Locke Lamora by Scott Lynch  and it's going to be recycled! Preparation indeed.
rp – peace and narrowboats