A traditional roses painted teapot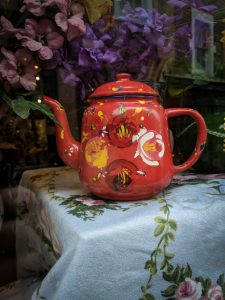 One thing we're going to need on a narrowboat is a good cup of tea and this looks like the ideal recepticle.
Teapot, Where?
I spotted in a thrift shop in Frome, on Catherine Hill (I didn't dare ask the price and in any case, we've got a white one so I might try and get mu to paint it for us – a lot more thrifty). I was tempted thought, I've got a red mug that looks exactly like it!
It's a Tradition
Traditional narrowboat painting is comprised of Roses and Castles. As to why? The origins have been lost, which is frighteneing as we're only talking about the 19th Century. Hardly the 'Mists of time'. The roses are painted using four colours only, if you are aiming for authenticity.
We like the idea of tradition and find It fitting to honour the people that lived and worked on the canals so, we want to take some of that tradition and meld it with the modern.
rp – peace and narrowboats