This is the first, of what is hopefully going to be an on-going product review series of Earth-friendly, People-friendly products. These reviews will tie in closely with our reasons for living on a narrowboat. They will encompass items that help towards leaving a smaller footprint on the earth so that hopefully, at least some of it is left for people in the future.
Limitations
Living on a narrowboat brings with it certain 'limitations' shall we say. This is in no way a negative, in fact, we think (and hope) it will be defining, liberating and beneficial. The limitations are directly in line with our philosophy of the way we want to live.
Some of the limitations I'm thinking of are
Getting rid of water waste. Grey Water i.e. washing up, sink, bath water is allowed to be put into the canal whereas Brown Water i.e. the toilet is definitely not allowed into the canal
Not wanting to put noxious chemicals into the canal infrastructure and affect the wildlife ecosystems that are in place.
Not having space to store up waste for recycling. We will recycle what we use but the sheer physical lack of space precludes bin bags piling up on the fore-deck.
Being more economical with resources – due to financial limitations and again, due to space limitations.
Being responsible for sourcing water, heating & energy and removing waste.
What this means is that we will have to Reduce more of what we use, Reuse everything we possibly can and Upcycle before Recycling, where we can't.
Product Review – Product X
The products in question for review will be items we currently use, items we are starting to use and items we want to use/are thinking of using in the near future.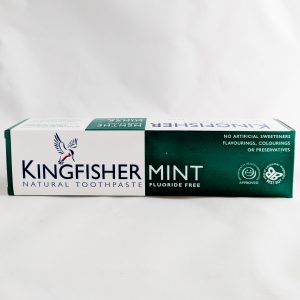 I'm starting with Product X, where X = Kingfisher Toothpaste. Normal toothpaste, whilst it is not a product containing the deadliest of chemicals on the planet, I think we can do better (I suppose a by-product would be swans with really shiny teeth).
We purchased the product at earthfare in Glastonbury. The company; Kingfisher who make it started in 1988 and focus upon making ethical tooth care products. The Kingfisher Mint Natural Toothpaste – Fluoride Free's active ingredients are as follows
Calcium Carbonate,
Glycerin,
Aqua,
Sodium Lauroyl Sarcosinate,
Hydrated Silica,
Cellulose Gum,
Mentha Piperita,
Citrus Limonum,
Foeniculum Vulgare,
Limonene
Performance
So, how does it perform? It's good. It cleans our teeth and the strong mint taste leaves them feeling fresh, even using a small amount of it. The tube is a good size (I object to paying the earth for a small amount of product just because it's 'Eco-friendly') and packaging is from 'card made from sustain-ably managed forests'. It has a modern 'stand upright' cap and the only thing I could say about it is that when you take the cap off, there's a bit of toothpaste flow. It's minimal and hardly worth mentioning but I have to put something in this blog 😉
This particular product doesn't contain Fluoride but Kingfisher do sell a mint toothpaste with Fluoride. They also sell other flavoured products including; Fennel, Aloe Vera with other flavours mixtures, and even a Charcoal version so plenty of variety. See the full range at their website.
Their products are Vegan, Gluten Free and GM Free and have BDHF approval.
Recommendation
We recommend this toothpaste. The Fluoride version will probably be our next purchase and we will probably intersperse non-Fluoride with Fluoride to keep those teeth in tip top condition. We will definitely be buying some more.
All in all, I think the swans will be very happy.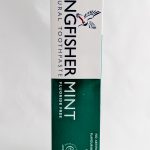 Availability
Kingfisher Toothpaste can be purchased at most Health Food Shops. As mentioned above, we bought ours at earthfare, Glastonbury. It is also available from Waitrose and Holland and Barrett. It can be purchased online from sites such as Green People. As ever, however you should shop around for offers.
Well, that's the first one over with. What do you think? Was this of use? Did I cover what a review should have? I'd be interested in your comments.
rp – peace and narrowboats