How do you keep the dream alive?
So there has been this time; it's called Christmas and New Year. Both mu and I love it and had a wonderful time but it has meant that we have had to wait as inevitably, work on our narrowboat will have slowed due to the holiday period. We were also busy with planning and deciding upon what presents to get and what food to purchase etc. and so, whilst the narrowboat has had to take a bit of a back seat in the flotilla of Christmas proceedings, we have still found ways of keeping the dream alive. By this I mean keeping the momentum needed hit the ground running (hit the canal floating) going.
Youtubed!
Youtube is the tool of choice for seeing; what people have done, how they've done it, what they wouldn't do next time and why they did it the way they did from narrowboat-tinged Youtubers. Their countdown to Christmas broadcasts and Christmas Specials have kept us entertained, especially
Country House Gent
Cruising The Cut
London Boat Girl
Journey with Jonno
The Narrowboat Experience
This Narrowboat Adventure
Narrowboat Helen
We can dream of Christmas afloat!
There is also a wealth of British Waterways' film archive uploaded e.g. by Beulah25. This provides a brilliant insight into the past and how the waterways used to be used, it's just you have to watch it up scaled from some ultra-low definition format obscured in blur and artifact. It does give it an added nostalgia and it is free, so you can't complain really.
Walking the Line
The other way we've kept involved is by visiting the local canals and walking various towpaths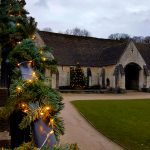 The Kennet & Avon Canal provides limitless possibilities to experience some of Britain's finest countryside. We've walked at Bradford-On-Avon, both towards Trowbridge and towards the Tithe Barn where you can dream of the past & Avoncliffe Aqueduct.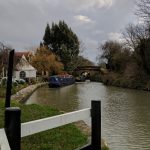 We've often stopped off at The Lock Inn as it would have been rude not to. They serve simply excellent food 😉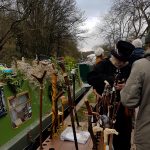 The Floating Christmas Market at Bradford-On-Avon was an excellent event where we got to combine a study of narrowboats with Christmas present shopping – definitely recommend it – going again next year.
The Somersetshire Coal Canal, a short arm off the Kennet & Avon is a great starting point for walking across the Dundas Aqueduct towards Winsley and Bradford-On-Avon or to taking the other direction towards Millbrook and Claverton
Devizes Wharf with its small canal life museum and proximity to Caen Hill Locks is another great location for boat-watching (it's not gongoozling, we're buying a narrowboat) and canal appreciation.
Snap!
I've taken a number of photographs whilst out and about, trying to capture the feel of the canal as it exists today, for me, currently as a non-boater. I'm interested to see how they will change as we move onto the canals and become part of it.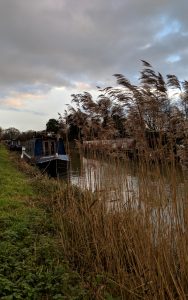 rp – peace and narrowboating