Rename/Remodel*
Hold the front page, stop the press, read all about it! And any other outmoded method of communication.
We're re-naming the narrowboat!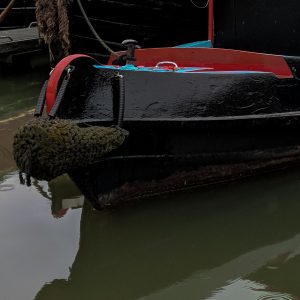 "But you haven't even renamed it from its existing name yet" I hear you cry, in indignant outrage…
There's a Problem
This is true, but there's a problem. In my initial post about naming the narrowboat, I drew the reader's attention to the fact that we saw a video where another narrowboat was named the same; 'Out of the Blue'. We passed this off casually thinking two narrowboats on the cut with the same name is, OK.
I waffled on about not worrying about uniqueness of name and some such, however, I recently saw another narrowboat named the same – Out of the Blue. I quickly headed over to The Boat Index and performed a quick search and to my horror, came up with 23 vessels named Out of the Blue!
Either lots of people are obsessed about Roxy Music's 4th album or they similarly just decided to go narrowboating; just like that!
Enemy Action
We had to re-evaluate; once is happenstance, twice is coincidence, three times is enemy action** but 23 times is the universe surely conspiring to blast us into oblivion!
It was difficult enough in the first place trying to come up with a name. Now, it was near impossible! We went through the old contenders but nothing seemed to work. We had not chosen them originally for a reason.
Many narrowboat names died to bring us this information***
We poured through books and record sleeves and obscure arcana for something unique. As anyone will know, trying to come up with a unique name for a website is nigh on impossible these days – this was worse!
In the end we have adjusted the original slightly. We've come up with a slight twist which follows on historically from the original and is hopefully unique (as far as we can possibly know in the registration of narrowboats via The Boat Index). It has a slightly ethereal feel and it embodies our feelings at this time but mostly, it's hopefully unique.
So?
We are going to name the narrowboat
Out of the Mist
This is it! It's final! No re-thinks. It will not change.
So, until next time. No. I didn't mean until 'next time' we rename the boat. I meant… until next time you're at this blog. I… Uh… Oh, Never mind…
* Sorry Roxy Music
** indebted to Ian Fleming
*** indebted to Mon Motha & Star Wars
rp – peace and narrowboats