The Narrowboat – what do we actually know?
A lot's been said already about this narrowboat; in passing, in dispatches, in the Queen's speech, in-uendo but what do we actually know? What are the facts?
Do We Know Any More?
So far, so good but here's a little bit more. It has an engine! Yes, no trying to source a horse to pull it through the canals of England and Wales and no 'legging' it through tunnels for us. We have BMC Leyland 1.5 Diesel engine that delivers 38 hp. Just imagine 38 horses roped to the front (sorry bow) of the boat, running at full pelt!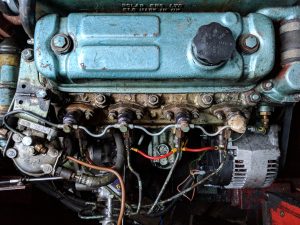 It's a beauty – it looks cool and all kind of enginy.
OK, I know what you're all thinking at this stage; cool? enginy? These adjectives don't immediately inspire confidence and knowledge in the combustion engine department. I suppose I have to admit, although I can spell mekanic, sorry mechanic, it's just I'm a bit challenged in the oil and engineering department. But I'm willing to learn. I'm keen, I have to be. I have to drive it away in approximately 10 weeks time as that's when it will be ready!
Switches Everywhere!
The only other tidbit I can impart about her/him/it [delete as appropriate] is there's this panel and it's full of switches. There are hundreds of them It's going to be like starting up a 747!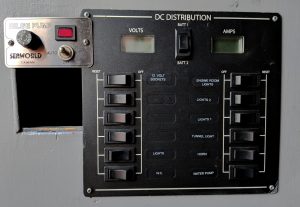 More importantly tho' is the Bilge Pump. Seaworld – sounds like it controls the gate to an underwater cage where the Killer Whale comes out to entertain the crowds. Can't wait to flick that switch!
As I learn more, you'll here it here first…
rp – peace and narrowboats