By Hook or By Crook We Will*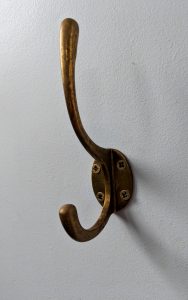 Hook
'By Hook or By Crook', 'Captian Hook', 'Hook, Line and Sinker', 'Well and Truly Hooked', 'Phone off the Hook', 'Hooks In You' (nice Marillion song, a single from the fifth album).
We're buying a narrowboat and if there's one thing we need on our narrowboat, it's a hook. A narrowboat, by definition is narrow and so has little floorspace. So, we can't spread out but we can think vertically. A hook is the ideal.
Luckily, we have a hook. It's that brass one up above. I think there are two.
We're gonna need more hooks…
*From my favourite television series – The Prisoner
rp – peace and narrowboats