Attended Upholstery Class – Session 2 this Tuesday
Well! What can I say? I'd heard of Deja Vu but this was ridiculous! I went down to the shop/studio at Sweetman and White Tuesday morning, all keen to get stuck into the upholstery. I was greeted by the lovely Claire, met my fellow upholsterers, picked up where I had left off from last week, stopped, looked around and the session was finished! And guess what? I was still removing staples from out of the chair!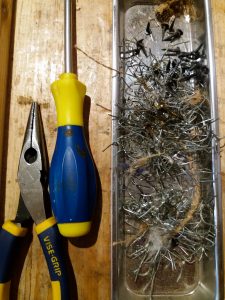 It turns out that the chair I am re-upholstering is built entirely out of staples! I don't think there is any upholstery in it…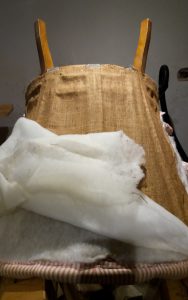 Tempus Fugit
Time just flies. That was Session 2 over! However, with this in mind it was suggested I take the chair home this week and remove 1 or 2 staples in readiness for the next session. If I hadn't, the course would be over and I would still be taking staples out 😉
I purchased a staple taker-outer and I've since removed a lot more staples. I should have it licked into shape in time for next week's session. Then, I can hopefully get onto something a bit more taxing and interesting.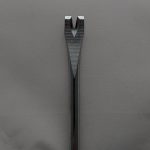 Material Gain
I've chosen and purchased some material for a cushion that is going to take pride of place on the chair. I have an idea  for the fabric I want to cover the chair in but I'll leave that until my next post. It can be the big reveal.
(It will make a change from staples 🙂 )
[Upholstery Class – Session 1]
mu