Attended Upholstery Class – Session 3 this Tuesday
I got to the session this week but guess what? I forgot my glasses! I had to feel my way around the chair via the staples, by hand. Yes, there were still more to remove (see last week's blog). Will this ever end?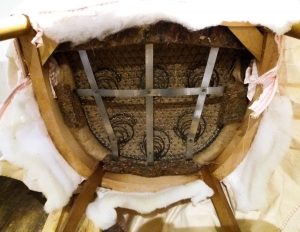 Spring is in the Air
The weather was better and it almost felt like Spring was in the air. Just for a few hours, then it had gone again. Chased off by the Beast from the East's younger brother no doubt.
Talking of spring, that was my next task after I had finally pulled the last staple. I had to start lashing down the springs which involves untying and re-seating them. They are a bit lumpy. They are however, tied down with a complicated knot, which I tried to fathom out but it got the better of me (especially without my glasses).  Even a bit of internet search afterwards did knot help this time.
Anyway I left, knot knowing whether I would be able to lash the springs down. A thorny problem I'll leave until next week.
Now, where did I put my glasses?
(They were in my bag the whole time – I never actually forgot them 😖*)
*Emojipedia – confounded face
mu